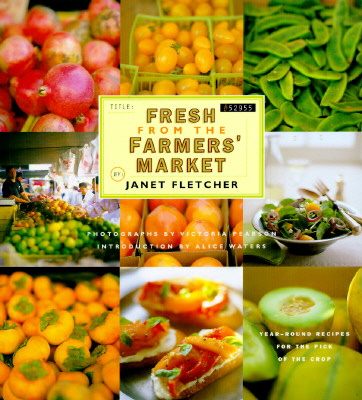 Fresh from the Farmers' Market (Paperback)
Year-Round Recipes for the Pick of the Crop
Chronicle Books, 9780811813938, 208pp.
Publication Date: April 1, 1997
* Individual store prices may vary.
Description
Offering quality and prices that can't be beat, and emphasizing the enduring value of small local farms, farmers' markets are popping up all over the country. Acclaimed food writer Janet Fletcher and photographer Victoria Pearson bring the freshness and flavor of peak produce to the kitchen with
Fresh from the Farmers' Market.
The more than eighty easy and delicious recipes included here -- many but not all of them meatless -- are as perfect for family meals as for entertaining. Organized by season,
Fresh from the Farmers' Market
is for anyone who wants to enjoy fresh fruits and vegetables at their peak of flavor.
Fresh from the Farmers' Market is a 1998 IACP Award nominee.
About the Author
Janet Fletcher is a food writer for the San Francisco Chronicle, a frequent contributor to magazines on wine and food topics, and a past president of the San Francisco Professional Food Society. She is the author of a number of cookbooks, including Chronic

Victoria Pearson is a Los Angeles based photographer. Her photographs have appeared in several books including Sangria (0-8118-4290-8), Party Appetizers (0-8118-4292-4), and The Cheese Course (0-8118-2541-8).

Alice Waters is the founder and proprietor of Berkeley's Chez Panisse restaurant and the author of several acclaimed cookbooks.
Praise For Fresh from the Farmers' Market: Year-Round Recipes for the Pick of the Crop…
Reviews from:
Country Accents
Organic Gardening
If you took the summer off from cooking, you're probably ready now to return to the kitchen and stir up some great dishes from the bounty you find at your local farmers' market. This book will certainly get you cooking after first seeking out the best of the fall crop and yes, there are recipes for the other seasons, as well. The author, who trained at the Culinary Institute of America and at Chez Panisse restaurant, convinces anyone who values quality and freshness to shop at farmers' markets; guides you in selection and storage of vegetables and fruits; then provides a wealth of recipes for every season. How about Yellow Split Pea Soup with Autumn Squash and Kale? Or Sweet Potato and Chestnut Soup? Or Pear Sorbet with Pear Eau-de-Vie?
Did you know that really fresh green beans will stick to your clothes? Or that perfect artichokes squeak when they're squeezed? You'll find plenty of other expert tips on selecting and storing field-fresh produce in Janet Fletcher's Fresh From the Farmer's Market. Included also are dozens of simple yet intriguing recipes like Braised Red Cabbage and Pears and Warm Apricot Tart. Sensuously photographed by Victoria Pearson, and organized by the season, this lovely book will delight all gardeners and cooks.
or
Not Currently Available for Direct Purchase