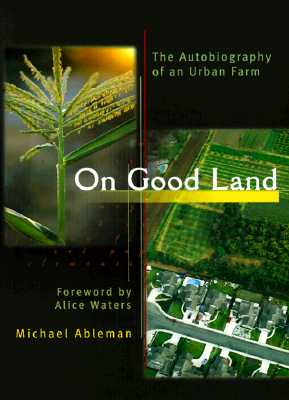 On Good Land: The Autobiography of an Urban Farm (Hardcover)
The Autobiography of an Urban Farm
Chronicle Books, 9780811819213, 144pp.
Publication Date: May 1, 1998
* Individual store prices may vary.
or
Not Currently Available for Direct Purchase
Description
In the heart of suburban Santa Barbara, where land is pricey and a field is worth more covered with asphalt than arugula, asparagus, and apple trees, thrives Fairview Gardens, a small organic farm managed for the past 18 years by Michael Ableman. On Good Land, an engrossing read, chronicles the life of the 100-year-old farm -- from its history to Ableman's first glimpse of the land to the current struggle to save it from development. Blending photographs, philosophy, humor, and practical knowledge, Ableman brings the reader into the everyday world of a small farm. With him we prune peach trees, harvest peppers, journey to the farmer's market, and fight city hall. Part memoir, part photojournalistic montage, On Good Land reveals one man's love of the land and his struggle to protect it, and to spread the word about the importance of practicing sustainable agriculture and preserving our farms in an increasingly urban world.
About the Author
Michael Ableman is the founder of the Center for Urban Agriculture at Fairview Gardens. Now surrounded by urban development, the farm continues to produce some 100 varieties of fruits and vegetables, as well as eggs, cheeses, and breads. A columnist for National Gardening, Ableman is also the author of From the Good Earth. He lives in Goleta, California, where he is trying to raise enough money to buy the farm when the lease expires this year. Check out Chronicle's exclusive Web site interview w

Alice Waters is the founder and proprietor of Berkeley's Chez Panisse restaurant and the author of several acclaimed cookbooks.
Praise For On Good Land: The Autobiography of an Urban Farm…
Reviews From:
Booklist
Kirkus Reviews
Chicago Tribune
Inspiring and utterly absorbing, Abelman's story of the development of his farming enterprise in Goleta, California, deserves to be widely read and seriously pondered. Completely surrounded today by housing developments and strip malls, Abelman's organically farmed 12 acres are now the Center for Urban Agriculture at Fairview Gardens, a place where the individuals involved act as stewards of the land, demonstrating the importance and viability of growing chemical-free fruits and vegetables to feed the local community. From revitalizing the soil to reaching out to area schoolchildren, and offering an internship program in sustainable agriculture, Fairview Gardens exists as an impressive model of environmental integrity. Surely Abelman's latest book should succeed in promoting further national awareness of the importance of extraordinary ventures such as this dynamic urban farm.
A lyrical tale of the survival and triumph of a small farm amid the suburban sprawl of southern California, with writing as rich and satisfying as the taste of a ripe melon. Fairview Gardens exists amid tract housing, malls, and endless miles of freeway. Ableman (founder of the Center for Urban Agriculture; From the Good Earth, not reviewed) tells of how the farm made peace with this suburban world and how this world came to first tolerate and then embrace this oasis of connection to the land. It hasn't been easy. Homeowners do not rest quietly with manure spreaders hard at work near their backyards; Ableman resents, albeit with grace, the imprecations of the modern world onto the land he manages. Yet, over time, the farm has become accepted as an eccentric neighbor, at first as a convenient place to buy good, healthy food and then as a repository of the dying knowledge of what is to be learned from working the land. Ableman's writing on these lessons perseverance, patience, humility, a feeling of empowerment when one eats what one grows forms the heart of this work. It is writing of inspiring joy, without the overblown "cosmic" rhetoric that often mars such paeans to nature. Along the way he offers some valuable tips to farmers, on mulching, watering, weeding, fighting city hall. Today Fairview Gardens is a public place, not a bucolic back-to-nature vacation spot for the few. It stands not apart from the community but within it, no small reason for its survival in the face of hungry developers. It remains a thriving farm, but also a place where people, especially children, come to experience the land. Among a sprawl of books incessantly issued and hyped, this small, wise volume quietly calls us to read and be renewed.
Even city folks will find something to savor in the "Autobiography of an Urban Farm," Michael Abelman's poetic account of his cultivation of the Fairview Gardens in Southern California, an enterprise that began with an ill-fated attempt to harvest and sell organic green peaches and the discovery of a labyrinth of 100-year-old water pipes beneath the farm. Given the farm's location in suburban Santa Barbara, the land surrounding it is quickly filling with strip malls and tract housing.


This is knowledge that we ignore at our peril, for without good farming there can be no good food; and without good food there can be no good life. Alice Waters

Michael Ableman's farm is a landmark...A lot of people are grateful to him, and I am one of them. Wendell Berry
Advertisement