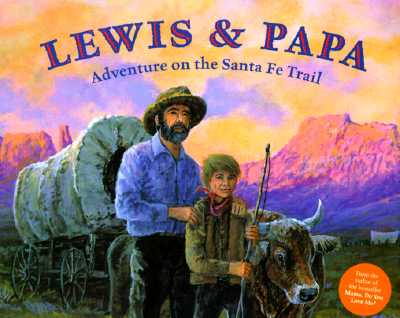 Lewis & Papa: Adventure On the Santa Fe Trail (Hardcover)
Adventure On the Santa Fe Trail
Chronicle Books, 9780811819596, 40pp.
Publication Date: April 1, 1998
* Individual store prices may vary.
or
Not Currently Available for Direct Purchase
Description
Lewis and his family live in a sturdy, stone house along the Wisconsin River. One day, a traveler happens by and spins stories about the Santa Fe Trail. And so begins Lewis and Papa's adventure. Set against the dramatic backdrop of the American West, Barbara Joosse, too, spins a gripping tale about fathers and sons; courage and tenderness; about the coming of age of a nation and the coming of age of a boy. For along the Santa Fe Trail, Lewis and Papa find more than an adventure. Amidst the buffalo stampedes and coyotes, the dark clouds of dust and heat, Lewis learns that being a man is more than bulging muscles and strength, and Papa learns that being tender is sometimes the most courageous act of all. Historically accurate details, illustrated maps, and a glossary of terms make this richly illustrated, poignant tale a coming of age story that will stir the minds and hearts of readers.
About the Author
Barbara Joosse is a full-time writer and mother. She lives with her family in a little stone house in Wisconsin. Ms. Joosse has a degree in journalism, but for the past 19 years she has devoted her time and talents to writing nearly twenty books for childr

Jon Van Zyle is the official artist of both the Iditarod Sled Dog race and the International Federation of Sled Dog Sports. His posters and lithographs are prized by collectors. Mr. Van Zyle and his wife, Charlotte, live in Alaska, where they maintain a do
Praise For Lewis & Papa: Adventure On the Santa Fe Trail…
Lewis and Papa:
by Barbara Joosse


SCHOOL LIBRARY JOURNAL
CHILDREN'S BOOK REVIEW SERVICE
THE GRAND RAPIDS PRESS
KIRKUS REVIEWS
FROM: SCHOOL LIBRARY JOURNAL
By Heide Piehler
In this moving picture book, a father and son journey across the Santa Fe Trail to make their fortune. The exciting story, strong father/son bond, positive portrayals of males as resilient and sensitive, and striking illustrations come together to create a memorable work. This is sure to find a wide and appreciative audience.
FROM: CHILDREN'S BOOK REVIEW SERVICE
Ms. Joosse has done it again! With the beautiful backdrop of the Santa Fe Trail in the mid-1800's, Lewis and his father become close and loving without the "mushy stuff" so many boys avoid at all costs. Lewis grows from a boy to a young man on this exquisitely illustrated journey. The trials and the tribulations of the trail bring forth ideas that all boys must face before they can become men.
FROM: THE GRAND RAPIDS PRESS
By Gina Carlson
Best-selling author Barbara Joosse creates a sensitive and insightful story featuring the unique bond between father and son. Lewis and Papa is a thoughtfully created story in both text and art. The plot revolves around a boy's journey into manhood. The dangerous journey brings lasting change and growth because his father took the time and had the courage to share his heart with his son. Artist Jon Van Zyle adds tenderness and drama with his unforgettable illustrations.

FROM: KIRKUS REVIEWS
Richly textured paintings in the colors of the West fill the pages; Van Zyle uses tight close-ups of oxen and buffalo, panoramic views of stars and hills, and unusual angles (the circle of wagons is seen from above in one nighttime spread).
Advertisement