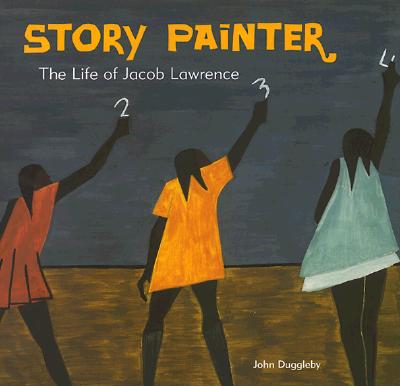 Story Painter (Hardcover)
The Life of Jacob Lawrence
Chronicle Books, 9780811820820, 64pp.
Publication Date: October 1, 1998
Other Editions of This Title:
Digital Audiobook (4/25/2013)
* Individual store prices may vary.
Description
The paintings of Jacob Lawrence tell stories. Stories of enslavement and freedom, of human migration and renaissance, of struggle and of triumph. A collection of these stunning paintings provides the backdrop for this exceptional biography which tells the story of one of our finest living painters-from his family's experience in the great migration North, to his growing up in the midst of the Harlem Renaissance, to his rise as one of the most renowned painters of African American life. With over twenty-five full-color reproductions and an insightful glossary, not only is this an easy-to-read, engaging biography, it's also an excellent starting point for discussions about American history.
About the Author
John Duggleby was born and raised in the rolling hills of lowa where Grant Wood lived and painted, and he studied journalism at the University of lowa, where Grant Wood taught. John lives with his four year-old daughter, Katie, in McFarland, Wisconsin. This is his fifth book for children.
Praise For Story Painter: The Life of Jacob Lawrence…
Story Painter:
by John Duggleby


PUBLISHERS WEEKLY
BOOKLIST
THE BULLETIN
THE HORN BOOK
KIRKUS REVIEWS
SCHOOL LIBRARY JOURNAL
PARENTING MAGAZINE
HUNGRY MIND REVIEW
FROM: PUBLISHERS WEEKLY
Duggleby once again enlarges upon themes in an American artist's life and work to create a gratifying portrait of a particular time and place. Lawrence's expressionistic, stark paintings, in excellent full-page color reproduction, together with an artful layout incorporating the artist's blocky color fields and rhythmic patterns, nicely complement Duggleby's measured account of a materially poor but culturally rich childhood and Lawrence's subsequent struggles and successes. The author subtly works in the effect of the dearth of materials during the Depression on Lawrence's emerging style as well as the artist's mission to convey the legacy of African Americans in his series paintings. The painter's links to the Harlem renaissance, the segregated military, civil rights and black pride movements are explored through anecdotes, photographs, paintings and opening quotes for each chapter, by such contemporaries as Langston Hughes, Fats Waller and Martin Luther King Jr. This solid work of biography/art history commemorates an extraordinary living artist and pays tribute to Lawrence's determination, optimism and originality.
FROM: BOOKLIST
By Hazel Rochman
This handsome biography, with 50 full-page color reproductions and lots of small photos, develops the theme of the artist's personal migration, beginning with his parents' move from the South and then the excitement of the boy Jacob, "Jake," when he moved to Harlem during the artistic Renaissance in the 1930s. Lawrence's tempera paintings will invite young people to look closely as they read about the artist's life and work, including his technique and the inspiration he found in the Mexican muralists. The presentation of Lawrence's historical subjects Touissaint-Louverture, the Underground Railroad, migration, civil rights, and more will stimulate group discussion about the African American experience and also about "everyone's search for a better life."
FROM: THE BULLETIN
of The Center for Children's Books
University of Illinois
Lawrence is one of the most significant American painters of the century, and Duggleby traces his life from his family's move north in the Great Migration to his formative years in Harlem and his professional life as a struggling and then successful artist. The book is particularly good at capably conveying the complicated relationship of Lawrence's art and his African-American culture, including his desire to be an artist whose merit was recognized not just within racial lines and the resentment of some African Americans at Lawrence's absence of political action. There's an inviting look to the book...with its pages in a collection of colors, its incorporated design motifs, and its scrapbooky setting of photographs, that lends it a casual accessibility. Readers who found Lawrence's The Great Migration or Walter Dean Myers' Toussaint L'Ouverture memorable will find this a useful way to become more acquainted with a great American artist.

FROM: THE HORN BOOK
By Deborah Taylor
Here is a visually striking, well-researched biography of one of the premier African-American artists of the contemporary era. Duggleby recounts the story of Jacob Lawrence's life: his birth in 1917 to parents who had left the South for a better life in the North; his enrollment in an after school program at Utopia's Children's House in Harlem, where he met his first art teacher, Charles Alston, and began to hear stories about the roles African Americans played in history; his decision to paint those historical stories; his innovation of series p
or
Not Currently Available for Direct Purchase