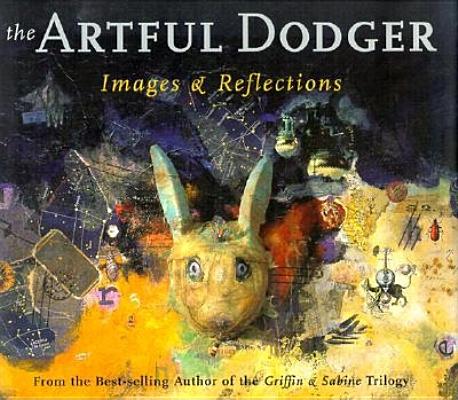 The Artful Dodger (Paperback)
Images and Reflections
Chronicle Books, 9780811827522, 224pp.
Publication Date: July 1, 2000
* Individual store prices may vary.
Description
With sales of his Griffin & Sabine Trilogy surpassing three million copies, it's been said that Nick Bantock has created an original literary genre. Now he brings new meaning to the art of autobiography with The Artful Dodger: Images and Reflections, in which he infuses the tale of his professional and artistic life with warmth and wit. The Artful Dodger surveys the vast and varied territory that Bantock's work encompasses: from his English art-school days to paperback covers, pure abstract experimentation to pop-up books, Griffin & Sabine to his most recent work. Bantock's own words lend a highly personal, often revealing, always entertaining angle to more than 350 resplendent images. As rich in life as it is in art, The Artful Dodger reveals the creative range of a modern graphic master.
About the Author
Nick Bantock is the author of numerous illustrated novels, including Griffin & Sabine, Sabine's Notebook, The Golden Mean, The Gryphon, and Alexandria, which together spent 100 weeks on the New York Times best-seller list. Born in England, he now lives in Vancouver, British Columbia.
Praise For The Artful Dodger: Images and Reflections…
BOOKLIST
Donna Seaman
Bantock, the creator of Griffin & Sabine (1991) and nine other unusual works of illustrated fiction, fashions an elaborately pictorial fairy tale our of the story of his charmed artist's life...the most intriguing chapters recount Bantock's amazing good luck as a young English dropout in the late 1960s. In spite of evincing no talent whatsoever, he enrolled in art school and soon magically discovered his gift for drawing. After completing his studies, he acted once again on intuition and impulse and waltzed into the offices of Penguin (having chosen that particular publisher because its "logo seemed friendly") and walked out with his first assignment, thus launching what became a 28-year career in book cover illustration. Bantock presents an impressive array of his diverse and striking work, including his covers for Flann O'Brien's Third Policeman and Carson McCullers' The Heart is a Lonely Hunter, then takes up the thread of his tale, recounting on word and image his move to Canada and his quest for more personal, challenging, and unpredictable outlets for his unique vision and technical mastery. Bantock proudly illuminates his creative process and also acknowledges his diverse influences, which range from Rembrandt to Odilon Redon, Joseph Cornell, old maps stamps, and Hindu art, and he takes his fans through each stage of the conception and birth of his books.
or
Not Currently Available for Direct Purchase