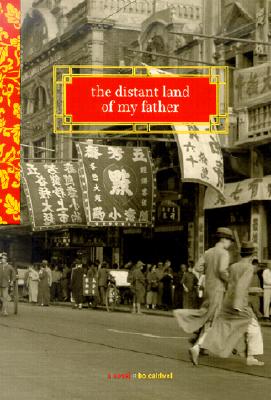 The Distant Land of My Father (Hardcover)
Chronicle Books, 9780811832403, 384pp.
Publication Date: September 1, 2001
Other Editions of This Title:
Paperback (9/9/2002)
Hardcover, Large Print (1/1/2003)
* Individual store prices may vary.
Description
For Anna, the narrator of Bo Caldwell's richly lyrical and vivid first novel, growing up in the magical world of Shanghai in the 1930s and 1940s creates a special bond between her and her father. He is the son of missionaries, a smuggler, and a millionaire who leads a charmed but secretive life. When the family flees to Los Angeles in the face of the Japanese occupation, he chooses to remain, believing his connections and luck will keep him safe.
He's wrong. He survives, only to again choose Shanghai over his family during the Second World War. Anna and her father reconnect late in his life, when she finally has a family of her own, but it is only when she discovers his extensive journals that she is able to fully understand him and the reasons for his absences. With the intensity and appeal of When We Were Orphans, also set in Shanghai at the same time, The Distant Land of My Father tells a moving and unforgettable story about a most unusual father-daughter relationship.
About the Author
Bo Caldwell has published short stories in numerous literary magazines. Her nonfiction writing includes a long-running series of personal essays in the Washington Post Magazine. A former Stegner Fellow in creative writing at Stanford University, she lives in Northern California. This is her first novel.
Praise For The Distant Land of My Father…
Shanghai in the 1930s was an exotic, magical place for a girl to grow up. Anna, the narrator of Bo Caldwell's lush and epic first novel, "The Distant Land of My Father" (Chronicle Books, 373 pp., $23.95), has a kind of royalty for parents.
Her father, Joseph, the son of missionaries, has been leading a charmed and privileged life, albeit with a secret existence as a smuggler. Her mother, Genevieve, a Californian by birth, has a radiant elegance. Young Anna knew "even as a child that she was beautiful, not the way children think their mothers are--I knew she was fromt he way men stared when she entered the room, the way other women regarded her, the intensity with which my father watched her."
The family's fairy-tale existence begins to fall apart with the Japanese occupation of China. Anna and her mother flee to California, but Joseph chooses power and fortune over family and remains behind. Over the years, the vicissitudes of war and politics leave their mark. Joseph suffers under the hands of the Japanese and Chinese Communists. His wife and daughter cope with feelings of betrayal and loss. As 14-year-old Anna reels from a short visit from her father, she writes:
I felt different every day, as though I were controlled by some force outside myself. One morning I woke up happy and couldn't wait to get to school. Three hours later, I'd be despondent and discouraged, almost in tears over a bad grade on a quiz or my friends not waiting for me for lunch.
Caldwell, who has published short shories in numerous literary magazines and lives in Northern California with her children and husband, novelist Ron Hansen, writes vividly and with great historical perspecitve. Against a background of Pearl Harbor and Mao Zedong, she grapples with the more personal issues of redemption, love and the healing power of forgiveness. -San Jose Mercury News
This is a marvelous story, straightforward without being prosaic, full of momentum yet complex and unpredictable. Bo Caldwell's novelized memoir of her father and of their lives in Shanghai in the 1930s and '40s, portrays an idyllic childhood, vividly remembered, a time of verandahs and parties and white linen suits, that is abruptly shattered when the Japanese invade Shanghai. There are bloody bodies and kidnappings and burning buildings, but more painful is the steady erosion of the child's faith in her father. "The Distant Land of My Father" is a study of the glittering visions that wear us down; to ashes or diamonds.-Los Angeles Times Book Review

This is a marvelous story...full of momentum, yet complex and unpredictable.
--Los Angeles Times
or
Not Currently Available for Direct Purchase