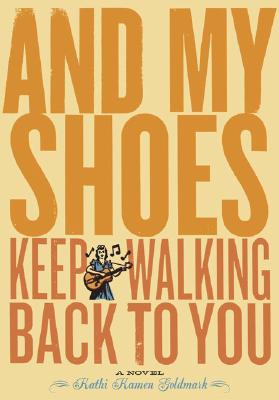 And My Shoes Keep Walking Back to You (Hardcover)
Chronicle Books, 9780811834957, 288pp.
Publication Date: August 1, 2002
* Individual store prices may vary.
or
Not Currently Available for Direct Purchase
Description
"Smashing...the characters are unforgettable" raves Amy Tan; "funny, authentic, and moving" says Dave Barry; "the female Kinky Friedman has arrived" lauds Olivia Goldsmith. This hilarious, fast-paced novel about musicians, love, and family is the literary debut of Kathi Kamen Goldmark, founder of the Rock Bottom Remainders, the publishing industrys hottest band. The tale follows sexy Sarah Jean Pixlie as she catapults from struggling back-up singer to blazing star on the country music scene. Along the way, she pours out her irreverent, savvy soul in the delicious, humorous lyrics to more than a dozen original songs, including "Put Me on the Guest List (To Your Heart)," "Hell on Heels," and "My Baby Used to Hold Me (Now He's Putting Me on Hold)." Witty and fresh, this romp is a great performance on stage and on the page.
About the Author
Kathi Kamen Goldmark is a founding member of the Rock Bottom Remainders, the publishing industry's hottest band. She lives in San Francisco.
Praise For And My Shoes Keep Walking Back to You…
Goldmark is the founder of the all-author rock band the Rock Bottom Remainders, and her contacts have netted her first novel blurbs from a dozen big-name authors (including fellow band mates Amy Tan and Dave Barry). She has chosen country-and-western music as the milieu for her fast-paced, feel-good novel featuring backup singer and songwriter Sara Jean Pixlie. Sara is on tour with one of the biggest names in country music when a novelty song she tossed off becomes a sudden hit. Bounced from the tour becasue of the star's huge ego, Sara winds up going home to her parents' bar in northern California, where she discovers she's pregnant. Many madcap adventures ensue involving her bar band musicians, a stripper, a no-good Nashville producer, and a nutrition Nazi. Although this novel will appeal to those who like their comedy on the silly side, there is no question that the humorous highlights are the genre-tweaking songs Sara composes, including "My Baby Used to Hold Me (Now He's Putting Me on Hold)." A perfect beach read. -Booklist
If you are the kind of person who has a hidden passion for Top 40 country, if you find yourself watching I Love Lucy reruns more often than you'd like to admit, if your secret desire is to live in a world where bad men are punished and your girlfriends rule and the best cure for a broken heart is to throw back your head and belt out a few bars, then Kathi Kamen Goldmark's debut novel And My Shoes Keep Walking Back to You (Chronicle) is perfect for your late-summer trip to the beach.
Sarah Jean Pixlie, your curvaceous, redheaded, leopard-skin-clad heroine, will take you on an insider's tour of the country music scene, as she hits the top of the charts, has a baby, brings country music's evil empire to justice, and talks two devilishly handsome and talented musicians into bed. And all of it almost simultaneously! It's nearly as much fun guessing the identities of the thinly disguised country music stars in the book as it it anticipating the rhymes of its original songs - "My Baby Used to Hold Me (Now He's Putting Me on Hold)," "Jesus Is My Lawyer Now," and "I Got My Modem Working," to name only a few.
In Goldmark's universe, families are supportive, children are loved unequivocally, and even the men who won't marry you always come back around to be your friend. It's a place we could all stand to spend a little more time in. -O, The Oprah Magazine
Even before her first novel was published, Kathi Kamen Goldmark was a figure of some renown in the book world. The brains behind the publishing industry's supergroup the Rock Bottom Remainders, Goldmark has written tunes, escorted authors to readings, started a record company and just generally immersed herself in the worlds of books and music for years. So it's not surprising that her first novel, "And My Shoes Keep Walking Back to You," is a honky-tonk celebration of family, friends and the value of a great song.
At its center is Sarah Jean Pixlie, flame-haired backup singer for country legend Cindi Lu Bender. After a night of wild sex with the new guitar guy, Sarah Jean wakes up to the news that she's been fired -- not for fraternizing with a band member but because a song she'd almost forgotten she'd recorded ("Heartaches for a Guy" -- sample line: "She made your Sunday breakfast overeasy 'stead of fried/ Well that's a lot of heartaches for a guy") has earned her a newcomer of the year nomination, and jealous Cindi Lu doesn't like competition. Brokenhearted, Sarah Jean heads home to Clear Lake and her mom's roadhouse, the Dewdrop Inn, to map out her career. When she begins to eat and sleep like there's no tomorrow, she realizes that her new life will have to accommodate a new baby as well. "And My Shoes Keep Walking Back to You" is as warmhearted and fun to read as can be. If some of the characters were sent over from central casting (loving but eccentric mothers, strippers with hearts of gold, loving but eccentr
Advertisement