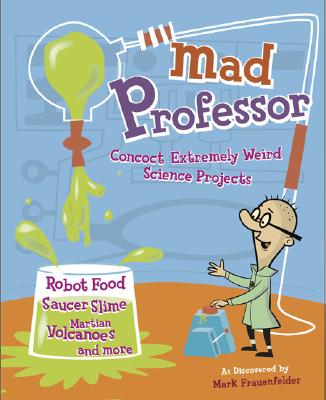 Mad Professor (Paperback)
Concoct Extremely Weird Science Projects--Robot Food, Saucer Slime, Martian Volcanoes, and More
Chronicle Books, 9780811835541, 80pp.
Publication Date: October 1, 2002
* Individual store prices may vary.
Description
Within these tantalizing pages lie the keys to the mysteries of science. For here, in strange and delectable detail, are dozens of hitherto secret experiments for concocting slimes and putties, inventing miniature robots and transport devices, growing crystal gardens, and many other useful creations-all crafted from widely available household products. ***Warning: countertop volcanoes also included.*** Where did these wondrous projects originate? Apparently in a shadowy toy research laboratory that once operated out of a tiny island in the South Pacific. The Zoober Laboratory has since vanished, but we recovered its crown jewel-a secret notebook: spiralbound, fabulously illustrated, a source of astounding information. Lets just be thankful the pages are wipe-clean.
About the Author
Mark Frauenfelder is coeditor of The Happy Mutant Handbook, cofounder of underground favorite bOING bOING (see www.boingboing.net), and author of a monthly column for Playboy called "Living Online." An aficionado of the ukulele and other island sports, he is currently holed up in Los Angeles.
or
Not Currently Available for Direct Purchase