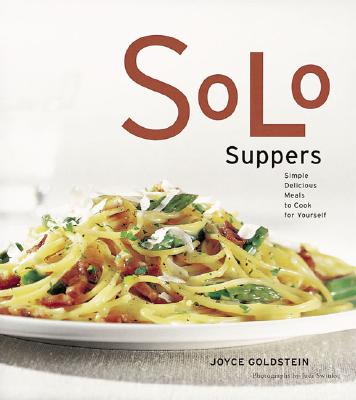 Solo Suppers: Simple Delicious Meals to Cook for Yourself (Paperback)
Simple Delicious Meals to Cook for Yourself
Chronicle Books (CA), 9780811836203, 156pp.
Publication Date: July 1, 2003
Description
Most recipes serve four to six people, leaving the solo cook in a predicament. Enter acclaimed cookbook author Joyce Goldstein and her stellar repertoire of meals that are fun for one. From hearty recipes like Spicy Tortilla and Lime Soup and Tuscan Style Rib-Eye Steak with Rosemary and Garlic, to dressed-up salads and seasonal fruit gratins, each dish is designed to serve one in style. Essential tips and techniques offer valuable advice on smart shopping for one and stocking the pantry. Numerous recipe variations take advantage of seasonal ingredients, while an array of sauces can turn that salmon fillet or lamb steak into a gourmet feast. When the good company is your own, Solo Suppers is the way to go.
About the Author
Joyce Goldstein, chef, author, and teacher, is an acknowledged expert on both Jewish and Mediterranean cooking, as revealed in such books as Enoteca (0-8118-2825-5) and her unprecedented exploration of Jewish cuisine from the diaspora begun in Cucina Ebraica (0-8118-1969-8) and Sephardic Flavors (0-8118-2662-7). She lives in San Francisco. Judi Swinks is a San Francisco-based photographer specializing in food and flowers.
Praise For Solo Suppers: Simple Delicious Meals to Cook for Yourself…
This is another user-friendly book by a well-known San Francisco teacher, chef and restaurateur (Square One) Joyce Goldstein, that meets a very specific need: These are recipes for the single guy or gal who doesn't want to make do with corn flakes or cottage cheese for dinner. The author doesn't rely on shortcuts, unless you consider polenta with spinach and peas or asparagus with eggs and Parmesan a shortcut.
Many of Goldstein's dishes segue into second meals; all rely on excellent fresh ingredients. With this book as a guide, it's easy to eat well when you're home alone. -San Francisco Chronicle
Advertisement