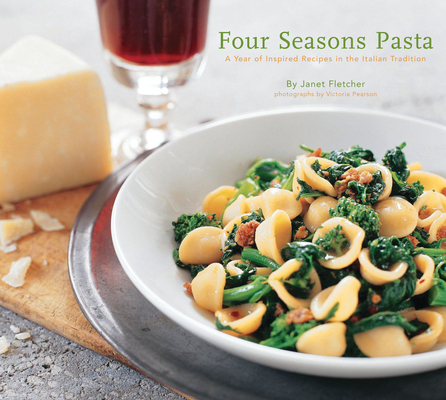 Four Seasons Pasta (Paperback)
A Year of Inspired Recipes in the Italian Tradition
Chronicle Books, 9780811839082, 132pp.
Publication Date: April 8, 2004
* Individual store prices may vary.
Description
In a world where everyone seems to be trying to eat more healthfully and seasonally, nothing makes more sense for dinner than pasta with vegetables. In Four Seasons Pasta, best-selling author Janet Fletcher follows the harvest to create more than 50 seasonal recipes for this wholesome combination. Inspired by the southern Italian pasta repertoire, Fletcher has unearthed many little-known gems--authentic, unfussy regional recipes that even novice cooks can make. From a spring fava bean stew with fusilli to summer's spaghetti alla Palermitana (with zucchini, tomatoes, anchovies and capers), peak-season produce paired with pasta makes a totally satisfying meal. Autumn brings radicchio to braise with pancetta and onions--a savory sauce for tagliatelle. Even winter provides produce for the pasta kitchen: beans for hearty bean-and-pasta soups and kale for a winter pesto. With guidelines for choosing dried pasta, making fresh pasta from scratch, and equipping the pasta kitchen, Four Seasons Pasta offers readers a delicious and sensible way to eat for life.
About the Author
Janet Fletcher is an award-winning food and wine writer who trained at the Culinary Institute of America and at Berkeley's celebrated Chez Panisse restaurant. She is a staff writer for the San Francisco Chronicle and author of The Cheese Course (0-8118-2541-8), Fresh from the Farmers' Market (0-8118-1393-2), and Pasta Harvest (0-8118-0567-0). She lives in Napa, California.

Victoria Pearson is a Los Angeles based photographer. Her photographs have appeared in several books including Sangria (0-8118-4290-8), Party Appetizers (0-8118-4292-4), and The Cheese Course (0-8118-2541-8).
Praise For Four Seasons Pasta: A Year of Inspired Recipes in the Italian Tradition…
A year of pasta
Despite the fact that the low-carb craze has knocked pasta off its throne as the automatic go-to meal, with the right sauces and add-ons even the carbohydrate-phobic can incorporate it into their meals. Not to mention that it can be delicious.
That is, if it's prepared skillfully, and that's where veteran chef/food writer (and Chronicle staff writer) Janet Fletcher comes in.
Her latest book, "Four Seasons Pasta: a Year of Inspired Recipes in the Italian Tradition" (Chronicle Books, 132 pages, soft-cover, $19.95) is like a crash course in pasta cooking. Fletcher begins with how to choose dry pasta and goes on to cooking, saucing, serving -- and how to estimate portion size. She explains which shapes work best with which sauce; how to make your own pasta; what equipment is essential or convenient in the kitchen; and how to select auxiliary ingredients, from anchovies to tomatoes and breadcrumbs (which thrifty Italian cooks use instead of more costly cheese in some dishes).
That's all before you delve into the more than 50 southern Italian recipes, many gleaned from chefs and home cooks during frequent trips to Italy.
This is not a vegetarian book, with pancetta or sausages of various kinds used extensively. But meats play second fiddle to vegetables, some as familiar as peas, pumpkin and zucchini, others tempting you to try spring's crop of fava beans and asparagus or wintry kale or borlotti beans.
A few of the recipes -- such as a Sicilian pasta with cauliflower, pine nuts, currants and saffron -- are more labor intensive than your standard spaghetti with marinara sauce, but most don't take much time at all. They will definitely change pasta from a standby to a star in your kitchen. -San Francisco Chronicle
or
Not Currently Available for Direct Purchase