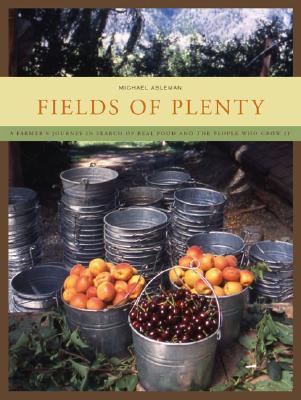 Fields of Plenty: A Farmer's Journey in Search of Real Food and the People Who Grow It (Hardcover)
A Farmer's Journey in Search of Real Food and the People Who Grow It
Chronicle Books (CA), 9780811842235, 255pp.
Publication Date: October 13, 2005
* Individual store prices may vary.
or
Not Currently Available for Direct Purchase
Description
In the face of supersizing and a fast-food nation, a growing community of organic farmers and food artisans are producing sustainable nourishment that is respectful to the land and rich in heritage, flavor, and passion. In "Fields of Plenty," respected farmer, teacher, and ecology advocate Michael Ableman seeks out these innovative and committed farmers to reveal how the fruits of those who till the soil go beyond taste. From Knolls farm in California, famous for succulent figs tree-ripened to perfection, to an urban farm in Chicago that sustains an entire community, his odyssey takes him to farmers who are trying to answer questions of sustenance philosophically and, most importantly, in practice. Illustrated with evocative color photographs of the land and the people who work it, and accompanied by a bountiful selection of recipes, this beautifully written memoir reveals the power of food as a personal and cultural force.
About the Author
Michael Ableman lives and farms on an island in British Columbia with his wife and two sons. He has been featured in National Geographic, on NPR's All Things Considered, and in the Utne Reader. He is the recipient of numerous awards, including Eating Well magazine's Food Hero Award.
Praise For Fields of Plenty: A Farmer's Journey in Search of Real Food and the People Who Grow It…
"America has undeniably become a fast-food nation, with the bulk of our meals coming from cans, freezers or drive-thru windows. In the newest offering from Ableman, he promises that it doesn't have to be this way, delightfully chronicling his quest to experience productive, imaginative, organic American farms.
For three months, as his own harvest was coming to fruition on his farm in British Columbia, the author and his son set off in a VW van on a 12,000 mile journey to farms across the country. The result is an engaging hybrid of travelogue, cookbook and discourse on the new American agrarian movement. Ableman's findings are far more diverse than the bucolic cornfields that might come to mind when thinking about American agriculture. From the poblano chilies that rise out of the New Mexican desert to an urban oasis of tomato plants bordering on Chicago's Cabrini-Green housing project to greenhouses brimming with lettuces along the rocky coastlines of Maine, the farms that he visits paint a vibrant portrait of the American landscape. His prose is as ripe as the summer tomatoes he describes, and the recipes that accompany each chapter are a tempting combination of regional favorites and new flavors.
Above all else, Ableman presents an appealing and optimistic testament to the fact that fresh, organic eating is still very much alive in America." Kirkus Review
Advertisement