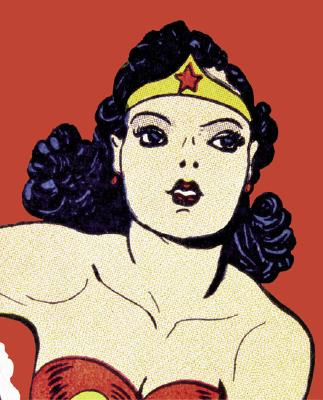 Wonder Woman (Paperback)
The complete History
Chronicle Books, 9780811842334, 208pp.
Publication Date: April 1, 2004
Other Editions of This Title:
Hardcover (9/1/2000)
* Individual store prices may vary.
Description
The super-powered trilogy that captured the world's greatest superhero triumvirate of all time is now available in paperback. Relive the adventures of Krypton's favorite son inside and outside the comic book world in
Superman: The Complete History
. Uncover the Caped Crusader's mysterious real-world origin and his evolution into a hugely successful TV and movie franchise in
Batman: The Complete History
. Follow the Amazon Princess as she evolves from curiosity to feminist icon in the Eisner Awardwinning
Wonder Woman: The Complete History
. Each book is filled with enough archival comic book art, photographs, and in-depth history to satisfy the most demanding fan—and is now priced to appeal to the most casual reader.
Superman, Batman, Wonder Woman, and all related characters, names, and indicia are trademarks of DC Comics 2004.
About the Author
Les Daniels is a renowned comic book expert. He's the author of DC Comics: Sixty Years of the World's Favorite Comic Book Heroes. He lives in Providence, Rhode Island.
Praise For Wonder Woman: The complete History…
These days we devour super-sized meals, ogle strutting supermodels and experiment with superconductivity. But once upon a time there were only superheroes. Murmur their names, and from out of memory's deep emerge lazy summer afternoons spent on covered porches with a bottle of Orange Crush and a bag of Fritos, weekly bike rides to the revolving wire racks in corner drug stores and, of course, our increasingly daring leaps, from picnic tables and brick fireplaces, with an old sheet fluttering from 9-year-old shoulders: "I can fly, I can fly." And we could -- if only during that moment when we flexed our knees and pushed off into the air. Then, for one blissful second, we were commensurate with our dreams.
But, ah, those names, how they thrilled and fed our imaginations: the Flash, Green Lantern, Green Arrow, Aqua-Man and Hawkman, the Mighty Thor, and a little later the Silver Surfer, Spiderman and the X-Men. To the ignorant eyes of parents, our carefully tended stacks of 20, 50 or 200 issues of Action Comics, World's Finest, Detective Comics, Marvel Comics and so many others merely appeared to tell the same story, again and yet again: A gaudily costumed crime fighter battles a seemingly unbeatable enemy -- sometimes the oddly loquacious alien from another planet or dimension, sometimes the white-coated mad scientist with his destructo-ray, often (and best of all) the monstrous result of some laboratory experiment gone horribly wrong.
Never such innocence again. Nowadays, comics have grown up and taken steroids: They are swarthy, mean, perverse, complex, adult. They even require specialized stores -- like X-rated videos -- and aspire to literature. "Graphic novels" can be intricate and wonderful -- ask any student of Neil Gaiman's The Sandman or look at the pastiche brilliance of Alan Moore's The League of Extraordinary Gentlemen -- but they would likely frighten or puzzle the children who lingered for hours over the early adventures of Superman, Batman and Wonder Woman.
Three oversized histories now document the life and times of these most durable of all the comic-book legends. Les Daniels's cleanly written text reveals not only the artistic, business and marketing decisions that have made Superman, Batman and Wonder Woman recognizable round the world, but also the ways in which each of their comics differs from the others in style and tone.
Superman's adventures, for instance, were nearly always laced with humor and frequently relied on slightly screwball situations: For instance, Mr. Mxyzptlk -- the impish troublemaker from the future -- and Lois Lane's niece Susie Tompkins generally treated the Man of Steel as either an amusing buffoon or a playtime doll. Bizzarro -- the simple-minded partial clone of Superman, who resembled a crystallized Frankenstein's monster -- provoked endless chaos without being truly threatening. The entire reporting cast of the Daily Planet often tended to be exploited just for laughs: wide-eyed Jimmy Olsen, love-struck Lois Lane, even gruff editor Perry White with his favorite ejaculation, "Great Caesar's ghost!"
By contrast, Batman dealt with obsession in all its forms (a theme underscored in Tim Burton's two Batman films). Bruce Wayne transforms himself into a caped crusader to avenge the brutal death of his parents. But his opponents are even more seriously damaged individuals, usually driven to crime by psychological trauma: the Joker, who yearns to be acclaimed the world's greatest comedian; Two-Face, who struggles with a Jekyll-and-Hyde personality after his disfigurement; Cat-Woman, a mousy secretary who escapes repression by releasing her inner tigress.
Wonder Woman is, of course, the supreme avatar of that particular myth. The ludicrously bespectacled Diana Prince is actually an Amazon princess, at ease with her physical strength and beauty. She grew up in a world -- Paradise Island -- where sisterhood was truly powerful (and telepathic to boot). As a result, she pr
or
Not Currently Available for Direct Purchase