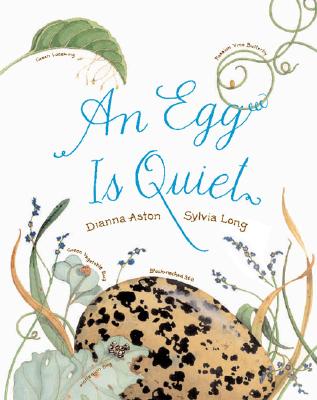 An Egg Is Quiet
(Nature Books for Kids, Children's Books Ages 3-5, Award Winning Children's Books) (Family Treasure Nature Encylopedias)
Hardcover

* Individual store prices may vary.
Other Editions of This Title:
Paperback (3/4/2014)
Prebound (3/4/2014)
Hardcover (7/1/2013)
Description
Award-winning artist Sylvia Long has teamed with up-and-coming author Dianna Aston to create this gorgeous and informative introduction to eggs. From tiny hummingbird eggs to giant ostrich eggs, oval ladybug eggs to tubular dogfish eggs, gooey frog eggs to fossilized dinosaur eggs, it magnificently captures the incredible variety of eggs and celebrates their beauty and wonder.
The evocative text is sure to inspire lively questions and observations. Yet while poetic in voice and elegant in design, the book introduces children to more than 60 types of eggs and an interesting array of egg facts. Even the endpapers brim with information. A tender and fascinating guide that is equally at home being read to a child on a parent's lap as in a classroom reading circle.
Praise For An Egg Is Quiet: (Nature Books for Kids, Children's Books Ages 3-5, Award Winning Children's Books) (Family Treasure Nature Encylopedias)…
Like the subject matter it describes, this book packages with understated elegance the substantive matter found within it. "An egg is quiet. It sits there, under its mother's feathers . . . on top of its father's feet . . . buried beneath the sand," Aston (
When You Were Born
) begins, as spot illustrations zero in on a hummingbird, emperor penguin and sea turtle, respectively. The narrative then launches into a kind of survey about the characteristics of eggs, which follows a simple format. In most spreads, different adjectives (colorful, shapely, textured, etc.) complete the sentence, "An egg is . . . ." This repetitive rhythm contrasts with the visual variety of the illustrations. Long's (
Sylvia Long's Mother Goose
) skilled use of contrast and compositional balance prevent monotony. For example, a border that resembles a color test pattern runs down the outer edges of a spread of nearly 40 carefully placed "colorful" examples, set against a white background, which dazzle the eye. The main text appears in large, flowery cursive, while a smaller printed typeface serves as labels and brief factual captions. "An egg is clever," in fancy script, for instance, sits alongside examples of camouflage: "An egg might be speckled to resemble the rocks around it." The letters' dramatic curlicues mimic curvy grasses and vines dappled with tiny insect eggs. Long introduces breathtaking color into the final spreads, as a concluding scene "hatches from" this peacefulness, reminding readers of an egg's purpose. This attractive volume pleases on both an aesthetic and intellectual level. -
Publishers Weekly
, starred review
"Worthy successor to Ruth Heller's Chickens Aren't The Only Ones (1981), this engrossing album pairs images of dozens of precisely detailed eggs and their diverse wild parents to basic facts presented in neatly hand-lettered lines. Nearly all depicted actual size (and those that aren't, are consistently so labeled), Long's eggs look real enough to pick up, whether placed in natural settings or suspended on white pages. All, whether from birds, insects, reptiles, fish or amphibians, are not only identified, but Aston adds both topical phrases-"Eggs come in different sizes"-to each spread and, usually, memorably presented additional facts: "An ostrich egg can weigh as much as 8 pounds. It's so big and so round, it takes two hands to hold one egg." A delight for budding naturalists of all stripes, flecks, dots and textures." -Kirkus Reviews, starred review
"The succinct text will draw young fact hounds, particularly fans of Steve Jenkins'
Biggest, Strongest, Fastest
and his similar titles. Long's illustrations are elegant and simple, and the gallery of eggs, as brilliantly colored and polished as gems, will inspire kids to marvel at animals' variety and beauty." -
Booklist
"An exceptionally handsome book...A beautiful guide to the unexpected panoply of 'the egg'." -School Library Journal
Chronicle Books, 9780811844284, 36pp.
Publication Date: March 2, 2006
About the Author
Dianna Aston spends a lot of time in her backyard hoping to find new eggs. She often enlists the help of her husband, children, and their assorted pets. She lives in Texas.

Sylvia Long is the illustrator of many books for children including the best-selling Sylvia Long's Mother Goose , Hush Little Baby , and Snug As a Bug , all published by Chronicle Books. Ms. Long's detailed paintings are inspired by her love of animals and the outdoors. She lives in Arizona.