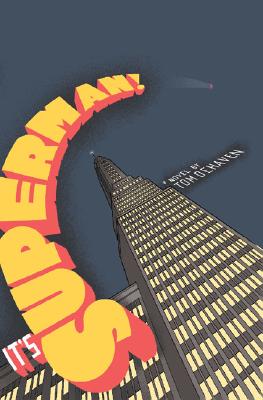 It's Superman! (Hardcover)
Chronicle Books, 9780811844352, 384pp.
Publication Date: October 1, 2005
* Individual store prices may vary.
or
Not Currently Available for Direct Purchase
Description
The world's most popular and enduring super hero and acclaimed novelist Tom De Haven come together to create the extraordinary It's Superman a novel that reinvents the early years of the Man of Steel. Opening with the young Clark Kent on a date, the novel takes an entirely fresh approach to the emergence of his superpowers and the start of his newspaper career, following him from rural 1930s Kansas across america to Hollywood in its golden age, and then to New York City. He meets a worldly Lois Lane and conniving political boss Lex Luthor, and begins his battles against criminal masterminds, mad scientists, and supervillains inspired by fascists. Sure to appeal to fans of the TV show Smallville and the novel The Amazing Adventures of Kavalier and Clay, as well as devoted comic book readers, It's Superman is a fun and fast-paced novel of thrilling invention, heroic escapades, ill-fitting costumes, and super-sized coming-of-age angst.
About the Author
Tom De Haven is the author of eight novels, including the Derby Dugan trilogy, hailed a wild ride" by the Boston Globe and "brimming with life and characters" by the New York Times Books Review. A frequent contributor to Entertainment Weekly and the New
Praise For It's Superman!…
De Haven's Derby Dugan trilogy Funny Papers, 1988; Derby Dugan's Depression Funnies 1996; Dugan under Ground, 2001 presaged Michael Chabon's Amazing Adventures of Kavalier and Clay (2000) and outdid it by encompassing the history of comics from early newspaper strips to the undergrounds of the sixties. De Haven now undertakes an authorized re-imagining of the early years of Superman. De Haven convincingly and touchingly depicts the young Clark Kent's apprehensions and insecurities as he comes to terms with his extraordinary abilities in 1930s rural Kansas. Concurrently, he tracks Lois Lane's beginnings in journalism and the plotting for power of New York City political boss Lex Luthor (no "Metropolis" masquerade here). While hewing to the basic outline of the venerable Superman mythos his intergalactic background, his straight-arrow upbringing in Smallville, and his blue-and-red costume De Haven finds ways to make even its more outlandish elements work. If it doesn't quite transcend its origins, De Haven's novel shows that, nearly 70 years after his creation, the Man of Steel still has plenty to offer. -Booklist
A focus on Clark Kent's high school years only makes comparison to the popular WB show Smallville all the more inevitable and intentional. De Haven, whose Derby Dugan trilogy beautifully re-imagined 20th-century American history through a pleasant sheen of media-tized irony, presents the Man of Steel as a sullen Depression-era teen, a bad WWII-era reporter and as ambivalent about his super powers throughout, all with a kind of knowing that reflects a deep immersion in pulp. De Haven drives his coming-of-age tale toward Superman's first showdown with Lex Luthor and his robot "Lexbots" in the middle of (the real!) New York City prompted, of course, by the need to save Lois Lane. He gets knocked off his feet by the Lexbots and temporarily dazed. He doesn't want to continue, doesn't think he can win. Suddenly, in an echo of recent Batman and Spiderman film adaptations, a disembodied voice rings out: "Now get off that silly chair and go do something. Doesn't matter what. Just do something, Clark." (It's his mother.) If that's not over-the-top enough, plenty of short chapters begin with lines like "Despite Lex Luthor's savvy and sensitive draft report on the Harlem race riot..." De Haven gives readers X-ray vision for determining when his tongue is in his cheek here; using it is great fun. -Publishers Weekly
The formative years of the Man of Steel, in a rib-tickling melodrama set in Depression-era America. De Haven's knowledgeable assimilation of U.S. pop culture (displayed in such memorable entertainments as "Funny Papers" 1985 and "Dugan Under Ground" 2001) is well-suited to the familiar comic-book tale of Kansas farm kid Clark Kent's loving relationship with his adoptive parents, astonished discovery of the superpowers embedded in "his puzzling, uncomfortable, intimidating body" and gradual acceptance of his role saving the world from malefactors while disguised as a mild-mannered, slightly geeky newspaper reporter. De Haven skillfully juggles parallel narratives, shifting among Clark's attention-getting early heroics (e.g., catching a speeding bullet in midair), Lois Lane's rapid climb up the big-city journalism ladder (interrupted by romantic friendships, one with Polish-American photographer Willi Berg, whose path also crosses Clark's) and criminal mastermind (A)lex(ander) Luthor's ascent to prominence as NYC alderman and evil genius whose plans to control the world involve deploying a fleet of semi-indestructible robots. Shades of Fritz Lang's "Metropolis," then, as well as the comics' world of cartoonish overkill. De Haven gradually brings Clark out of Kansas, as he rides the rails across America, discovers his humanity (and vulnerability) along with his ability to fly, encounters perpetually endangered Lois (later his reluctant colleague at the
Advertisement