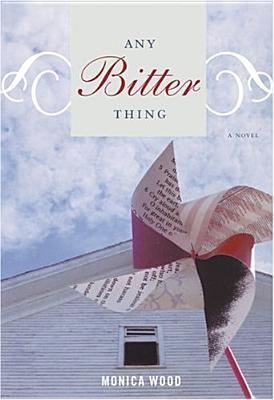 Any Bitter Thing (Hardcover)
Chronicle Books, 9780811846042, 384pp.
Publication Date: May 1, 2005
Other Editions of This Title:
Paperback (4/25/2006)
Hardcover, Large Print, Large Print (4/1/2007)
* Individual store prices may vary.
Description
Richard Russo has celebrated Monica Wood's fiction as "thoroughly captivatingwarm and wise and beautifully written," and Andre Dubus III praised it as "luminous and gracefulentertaining yet transcendent." Any Bitter Thing, Wood's brilliant new novel, is her breakout book, a timely, gripping, and compassionate tale of family, faith, and deeply hidden truths. One of its greatest strengths is its continuous ability to defy expectations. It's not what you think. It is worse. Lizzy Mitchell was raised from the age of two by her uncle, a Catholic priest. When she was nine, he was falsely accused of improprieties with her and dismissed from his church, and she was sent away to boarding school. Now thirty years old and in a failing marriage, she is nearly killed in a traffic accident. What she discovers when she sets out to find the truths surrounding the accidentand about the accusations that led to her uncle's deathdoes more than change her life. With deft insight into the snares of the human heart, Monica Wood has written an intimate and emotionally expansive novel full of understanding and hope.
About the Author
Monica Wood is also the author of Ernie's Ark, a collection of stories, and My Only Story, a novel. Her fiction, book reviews, and articles appear in numerous magazines and literary journals. She was born and still lives in Maine, which is also where her fiction takes place.
Praise For Any Bitter Thing…
A near-fatal accident in the dark of night 30-year-old Lizzy is struck in a hit-and-run sets in motion a complicated, surprising story of love, loss and sacrifice. When Lizzy was two, her parents were killed in a plane crash, and she was sent to live with her beloved Uncle Mike, a Catholic priest. In prose as fresh and lovely as a Maine summer evening, Lizzy tells of seven halcyon years with her uncle. But when a bitter housekeeper falsely accuses Mike of sexually abusing Lizzy, her cozy world is shattered. Sent to live with relatives, Lizzy is told that Mike succumbed to the weak family heart and died. So how has he visited her in her hospital room after the hit-and-run? This, as well as the mystery of why Father Mike meekly accepted the accusations leveled against him, begins to come clear when Lizzy's accident and rehabilitation dredge up questions of another tragic event, long hidden. Following the structure of the Liturgy of the Hours from Invitatory to Matins, Wood (My Only Story) employs a sophisticated, layered architecture, circling from present to past to reveal shocking truths. Interspersed with Lizzy's first-person narration are sections told from Uncle Mike's third-person perspective, which provide mesmerizing insight into what is known and what is remembered. Wood's story unassumingly builds in power, right up to its moving final page. -Publishers Weekly
A catastrophic accident forces a young Catholic wife to question the good intentions of those around her, in Wood's polished second outing (after My Only Story, 2003), set in small-town Maine.
Incredibly, the abandonment of Lizzy Mitchell on the side of the road after she's hit by a car one March night becomes the third traumatic desertion of her life: the first occurred when her parents died in an airplane crash, leaving her orphaned at age two; the second from the vanishing of her caretaker uncle, Father Mike, when she was nine. Nobody believes that Lizzy remembers a visitation when she was in the hospital after the accident not even her husband, Drew, who is trying to repair their marriage after suspicions of his infidelity drove Lizzy out the night of the accident. Yet Lizzy swears that her beloved Father Mike was there, although she has always been told that he died shortly after the dubious child molestation charges wrested the priest away from her. A 30-year-old counselor in a high school, Lizzy suddenly receives word from the so-called Bad Samaritan who moved her body after she was struck by another car and then left her on the side of the road after calling 911: this aged broken-hearted alcoholic, Harry Griggs, desperately seeks her forgiveness but then doesn't have the strength to use her confidence in turning his life around. After an opening bang, Wood gradually works her way back in time, using alternating points of view and time periods to unravel the soulful mystery of these deeply scarred and intensely human characters. The trials visited upon Lizzy both as a child and adult seem brutally unendurable, and yet her vulnerability becomes her strength. Overall, Wood keeps a firm control, even when testing poor Father Mike with every temptation imaginable. Quotes from The Liturgy of the Hours delicately weave a Christian message throughout. A quiet tale with epic repercussions. -Kirkus Reviews
or
Not Currently Available for Direct Purchase