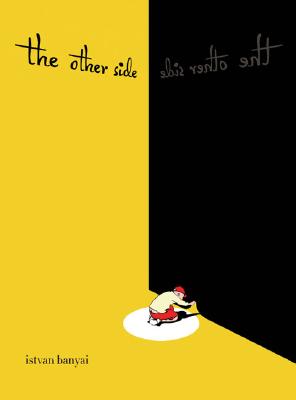 The Other Side (Hardcover)
Chronicle Books (CA), 9780811846080, 48pp.
Publication Date: August 4, 2005
* Individual store prices may vary.
Description
In The Other Side, artist, designer, provocateur Istvan Banyai takes readers on another exceptional visual journey. In graphically stunning illustrations that feature many clever twists in point of view, familiar scenes turn and turn again to show us the back, the front, the top, the bottom, the opposite, the other side of each perspective. Here's a door. What's on the other side? Here's a shoreline. What's on the other side? Here's a curtain. What's on the other side? The answers may surprise you. Delightful, sly, funny, and challenging, The Other Side will make readers want to look, and think, twice.
About the Author
Istvan Banyai, the acclaimed Hungarian-born creator of Zoom and Re-Zoom, and the illustrator of several other books for children, is also well known for his editorial illustrations, which have been published in the New Yorker and Rolling Stone, among other journals. His perspective, always unexpected (sometimes even to him), has made him one of the most original and iconoclastic illustrators today. He lives in New York and Connecticut.
Praise For The Other Side…
"Istvan Banyai's new book, The Other Side, like its predecessors, Zoom and Rezoom, is visually elegant, devilishly clever and not dependent on words." -The New York Times Book Review
"Cunning line drawings serve up a fast-paced, hall-of-mirrors-style adventure that cleverly reveals a timeless point: There are two sides to every story." -Parenting Magazine
"...another transformative page-turner." -Publishers Weekly
"If this is a children's book, I don't ever want to grow up." -The Kansas City Star
"Children who delight in picture puzzles or who enjoy meticulously decoding sequential art may barely come up for air." -The Bulletin of the Center for Children's Books

"There's nothing mundane or predictable about Banyai's wordless picture book....This is a challenging book, one that allows for creative speculation. The graphite-rendered artwork is quirky as well as infinitely interesting. Not everyone will get the sly humor, or be prepared to indulge in a book that demands such work. However, those who give it a try will be drawn into a though-provoking, whimsical world. It's a book that begs to be talked about, and teachers will find it a useful tool for discussions about point-of-view and perspective." -School Library Journal
or
Not Currently Available for Direct Purchase