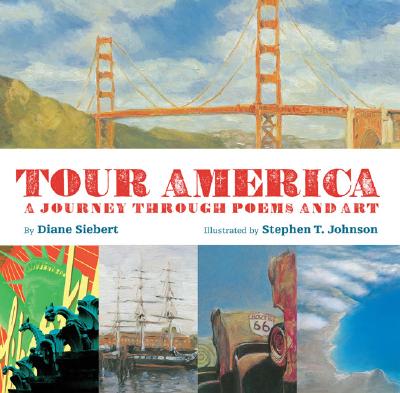 Tour America: A Journey Through Poems and Art (Hardcover)
A Journey Through Poems and Art
Chronicle Books, 9780811850568, 64pp.
Publication Date: April 1, 2006
* Individual store prices may vary.
or
Not Currently Available for Direct Purchase
Description
From New Hampshire's formidable Mount Washington to San Francisco's spectacular Golden Gate Bridge, the scenic treasures of the United States are brilliantly captured in this artistic tour de force. Award-winning poet Diane Seibert's inventive poems are perfectly paired with Caldecott Honorrecipient Stephen Johnson's compelling imagery. Each turn of the page offers a surprisewhether it's an impressionistic painting of Niagara Falls, a wild collage of Las Vegas, or an evocative tallgrass prairie landscape. Additional facts about each site and a list of art media are provided, making this distinguished volume a gem for the study of literature, art, history, or geography.
About the Author
Diane Siebert and her husband left their jobs, sold their possessions, and set out on an incredible ten-year journey around the United States (and some of Mexico). This experience inspired her many award- winning children's books: Truck Song, Train Song, Plane Song, Motorcycle Song, Heartland, Mojave, Sierra, Rhyolite, Mississippi, and Cave . She lives in Oregon. Stephen Johnson is the author-illustrator of such well-known books as My Little Red Toolbox, City by Number, and the Caldecott Honor winning Alphabet City . He lives in Kansas with his wife and two daughters.
Praise For Tour America: A Journey Through Poems and Art…
"A colorful portrait of the American landscape that could awaken anyone's travel bug." New York Times

This stunning tour of America highlights 26 of the poet's favorite sights, which are as varied as the nation itself. Siebert's striking word choices and images reflect the essence of each subject, from the electric excitement of "The El"-(Chicago)"look! right up there!/up in the air!"-to the desolate landscape of the Badlands (South Dakota), "cracked by frost and baked by sun/sliced and scarred where waters run." The collection features many surprises: the Aurora Borealis (Alaska) that "flames/and/drapes/when solar winds are blowing" and Bristlecone Pines (Nevada) where "The slopes will still hold roots of trees/Whose gnarled limbs, bleached white as bones,/Attest to all the centuries/That shape the ancient bristlecones." A double-page map at the beginning of the book alerts readers to the exciting destinations they will experience, and a smaller map and inset box of additional information for each sight increase the educational value. Johnson masterfully varies his medium and art style to reflect the mood of each locale. There are quiet watercolors ("American Town") and dynamic collages ("The El") as well as pastels, oils, acrylics, and photos. An impressive "List of Art and Mediums" appears at the end of the book. This distinguished offering blends poetry, geography, art, and history. -School Library Journal, starred review
"The accessible words, open design, and appealing geographic approach make the book ideal for classrooms. Johnson's impressively varied, sophisticated images of towns and landscapes may expand the book's audience to older art students." -Booklist
Advertisement