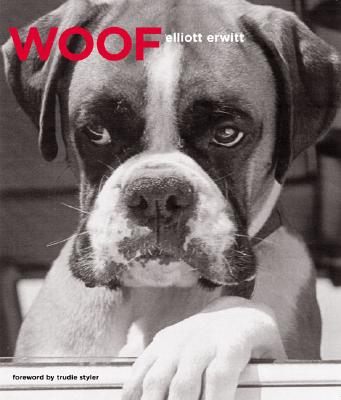 Woof (Hardcover)
Chronicle Books, 9780811851121, 176pp.
Publication Date: October 13, 2005
* Individual store prices may vary.
Description
From acclaimed photographer and famed lover of dogs Elliott Erwitt comes Woof, the most unintentionally persuasive advertisement for dog ownership there ever was. Erwitt's eye is unfailing, and his love for dogs is captured in each and every photo. Digging a hole, barking at a cat, jauntily carrying a stickErwitt takes these ordinary moments and makes them extraordinary. The humorist P. G. Wodehouse once said of Erwitt, 'Theres not a sitter in his gallery that doesn't melt the heart, and no beastly class distinctions, either. Thoroughbreds and mutts, they are all there." Add to that the level of respect Mr. Erwitt shows for his subjects: whether it be a scruffy little terrier pausing for a quick pant or a herding dog intensely focused on her flock, with one click of the shutter the individuality of each and every dog is conveyed and memorialized. Mostly new photographs, with a couple of old favorites sprinkled in for good measure, Woof is a celebration of dogs at their finest.
About the Author
Elliott Erwitt was born in France of Russian migr parents and lived in Italy for his formative years. He moved to New York in the 1950s, where he met Edward Steichen, Robert Capa, and Roy Stryker. He was invited to join Magnum Photos in 1953 and was a three-term president in the 1960s. His books, journalistic essays, illustrations, and advertisements have been featured in publications around the world for more than forty years. He remains a leading figure in the field of contemporary photography
Praise For Woof…
Many of these pictures will make you smile, and some will make you laugh, but this is more than just a collection of cute doggie pix. They are portraits in the full sense of the word: whether posed or impromptu, each image reveals something true about a particular dog or about dogs in general. Erwitt, a veteran photographer and member of Magnum, offers simple truths: "Living with a dog is messy"; "A dog teaches a boy fidelity." His pooches, in all shapes and sizes, are pensive and playful, reflective and active; they zestfully leap into a lake or lie belly up in a grassy field, enjoying a lovely day. Unlike William Wegman's dog photos, Erwitt's don't rely on props or costumes, though two supercool Dalmatians in goggles do make an arresting pair. Even if you're not a dedicated dog lover, this book will charm you. Woof! -Publishers Weekly, starred review
or
Not Currently Available for Direct Purchase