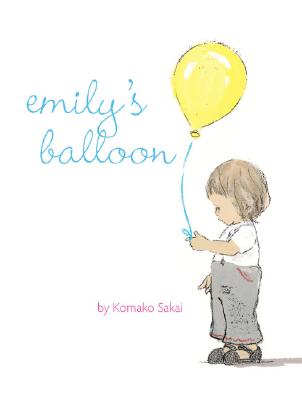 Emily's Balloon (Hardcover)
Chronicle Books (CA), 9780811852197, 44pp.
Publication Date: February 23, 2006
* Individual store prices may vary.
or
Not Currently Available for Direct Purchase
Description
One day, Emily gets a balloon. By the end of the afternoon, the balloon is no longer just a plaything. Emily and the balloon are friends. But when the balloon blows away, what will Emily do? The beautifully evocative illustrations and the timeless innocence of the story make this deceptively simple book a sure classicsweet, compelling, and filled with the wonder and discovery of friendship.
About the Author
Komako Sakai lives in Japan, and studied art in Tokyo. She worked in textile design before beginning to illustrate children's books. She is the winner of the Japanese Picture Book Prize. This is her first book in English.
Praise For Emily's Balloon…
"A tale of a common childhood experience, tenderly and sweetly told." - School Library Journal
"The brevity of text combined with relatively simple illustrations make this tale perfectly suited to a toddler's interest, working well for either cozy shared storytime or for larger groups during read-aloud sessions." -Kirkus Reviews

"With its soft charcoal outlines, three-color images and matte pages, Japanese author-artist Sakai's book looks as if it could have been published in the early '60s, yet her theme is timeless. The measured pacing of the text and roomy spreads evoke a more leisurely era. Emily, a toddler with short hair and gray overalls, has trouble holding onto her yellow helium-filled balloon, until her mother (who wears a skirt and high heels) wisely ties it to a spoon ("Look! It floats, but it doesn't fly away!"). Emily and the balloon share a happy afternoon in the garden, picking flowers and making matching leafy crowns, until a gust blows the balloon up into a tree, and it stays there. "We wanted to eat together," the text reads, as Emily sits at the table in tears, imagining supper and then bedtime with her new friend. Sakai smoothly moves from Emily's thoughts to her words, always keeping readers in the heroine's mindset. Tucked into bed, Emily finds she can see the balloon from her window: "There it was, nestled in the tree. It looked just like the moon." Sakai's quiet voice represents loss as small children experience it: sometimes, she seems to say, although we can't have what we love close to us, they are still there-just like the moon. A dog-eared favorite in the making." -Publishers Weekly, starred review
"One afternoon, Emily got a balloon." From this straightforward first line follows a picture book imported from Japan that perfectly reflects a very young child's worldview. Toddler Emily's balloon comes home with her and, tied to a spoon, floats at just the right height for companionship. The two friends play until a gust of wind sends the balloon up into a tree, where, to Emily's dismay, it gets stuck. Even so, it provides a reassuring presence outside Emily's window all night, "just like the moon." Soft pencil-and-wash sketches, all in grays and browns except for the bright yellow balloon, reinforce the child-centered feel of the book as they focus squarely on Emily's attachment to her balloon friend. For all their simplicity, the illustrations are remarkably expressive, particularly at capturing a toddler's body language. Sakai's minimal text segues fluidly and coherently from an omniscient narrator's voice to that of Emily's mother and even Emily herself and is nicely matter-of-fact, never condescending nor sentimental in its acceptance of object as friend. The lack of an adult filter on child experience is refreshing and effective." -The Horn Book, starred review
Advertisement