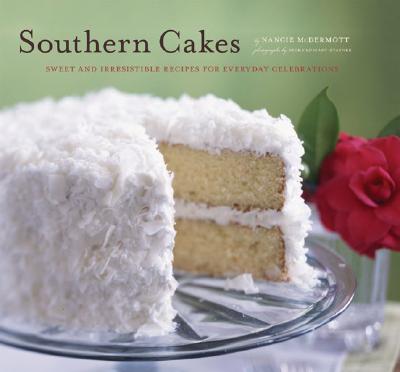 Southern Cakes (Paperback)
Sweet and Irresistible Recipes for Everyday Celebrations
Chronicle Books, 9780811853705, 168pp.
Publication Date: June 7, 2007
* Individual store prices may vary.
Description
Taste the chocolatey goodness of Mississippi Mud or marvel at the extravagant elegance of the Lady Baltimore and there will be no doubt that Southerners know how to bake a cake. Here are 65 recipes for some of the most delicious ever. Jam cakes and jelly rolls; humble pear bread and peanut cake; whole chapters on both chocolate and coconut cakeseach moist and delicious forkful represents the spirit of the South. A Baking 101 section offers the cake basics, some finishing touches (that means frosting and lots of it!), and the how-to's of storing each lovely concoction so that the last slice tastes as fresh and delightful as the first.
About the Author
Nancie McDermott, cooking teacher and author, lives in Chapel Hill, North Carolina.

Becky Luigart-Stayner is a photographer for numerous magazines and lives in Birmingham, Alabama.
Praise For Southern Cakes: Sweet and Irresistible Recipes for Everyday Celebrations…
"Food writer Nancie McDermott has compiled 65 of the most sinfully delicious cakes south of the Mason-Dixon line, and the result could make even Scarlet O'Hara weak in the knees...The recipes all have a down-home feel, but many of the cakes also have a touch of elegance." Choclatier Magazine, December 2007
"Every recipe has a charming headnote, often showing a bit of historical research, and about a third are illustrated with color photos. McDermott's handy introductory chapter on cake baking includes the very Southern advice to buy butter on sale and keep it in the freezer 'so you are baking-ready 24/7.'" Los Angeles Times, August 22, 2007
"For my money, the grandest-looking cakes in this book are the brown sugar pound cakes baked in a tube pan with a lush mass of caramel glaze drooling down its sides, and the classic coconut cake, with its feathery, dazzling white frosting. When I brought the coconut cake to the office, people in the street were literally lunging at it." Los Angeles Times, August 22, 2007
"It's little wonder that Southerners are proud of their baking history. Southern Cakes is filled with the kinds of recipes that make you want to take time to relax and enjoy something delectable." —The Arlington Advocate, March 2008