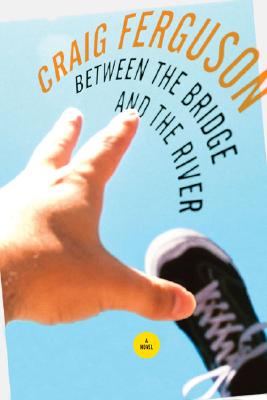 Between the Bridge and the River Hc (Hardcover)
Chronicle Books (CA), 9780811853750, 329pp.
Publication Date: March 23, 2006
* Individual store prices may vary.
or
Not Currently Available for Direct Purchase
Description
Bawdy, joyous, messy, hysterically funny, and guaranteed to offendregardless of religion, race, national origin, sexual orientation, or profession"Between the Bridge and the River" is the debut novel by Craig Ferguson, host of CBS's "The Late Late Show." Two childhood friends from Scotland and two illegitimate half-brothers from the American South suffer and enjoy all manner of bizarre experiences which, as it turns out, are somehow interconnectedand, surprisingly enough, meaningful. An eclectic cast of characters includes Carl Jung, Fatty Arbuckle, Virgil, Marat, Socrates, and Tony Randall. Love, greed, hope, revenge, organized religion, and Hollywood are alternately tickled and throttled. Impossible to summarize and impossible to stop reading, this is a romantic comic odyssey that actually deliversand rewards.
About the Author
Craig Ferguson, host of The Late Late Show, was born in Glasgow and worked his way through the entertainment industry as a drummer, comedian, actor, and director. He moved to America in 1995 and has written for television and film, including Saving Grace and I'll Be There, in which he also starred.
Praise For Between the Bridge and the River Hc…
A gallery of grotesques slogs through the sewers of the entertainment industry toward redemption in this exhilarating debut novel from the host of The Late Late Show. Leading the pack are Fraser, a Scottish "phony TV evangelist... drunken, selfish media prick... gossip and sot" who has been disgraced in a sex scandal; his cancer-stricken boyhood pal, George; vapid sit-com star Leon; and Leon's 300-pound, sexually perverted Svengali brother, Saul. They make their separate but linked ways through a world populated by snake handlers, serial killers, dead-eyed whores and hack studio executives pushing formulaic action films, while they take hallucinatory side trips. The sprawling tale, with plenty of Scottish backstory, casts a jaundiced eye on media debaucheries and petty vanities, throwing in miscellaneous riffs on everything from Starbuck's to escort ads, but Ferguson is particularly sharp-and funny-on Hollywood proper. For every satire of organized religion or a Vegas that's "as glitzy as a trailer park at Christmas," however, he delivers an injunction to "help others" or an ode to Paris in springtime that somehow sounds fresh. The result is a tour de force of cynical humor and poignant reverie, a caustic yet ebullient picaresque that approaches the sacred by way of the profane. Publishers Weekly, starred review
Ferguson (host of CBS's The Late Late Show) takes us on a wild ride in his scintillating debut, a combination caper/morality tale with the barbed comic energy of a Carl Hiaasen novel.
We begin in the author's native Scotland. Fraser and George are teenaged buddies, fishing in a canal, when George saves Fraser from the local bully. Fast-forward some 20 years. George is a criminal defense lawyer with a wife (unloved) and a daughter (adored); he has just been diagnosed with terminal lung cancer. Without telling his family, he splits for London, contemplating suicide. Fraser, more of a reprobate, is a cynical evangelist on Scottish television who cannot keep his hands off the ladies. A sex scandal ends his gig at the same time he's invited to a convention of Christian broadcasters in the States. The invitation comes from Ferguson's two other leads, Leon and Saul, offspring of the same mother but different fathers (Sinatra and Peter Lawford, respectively). The well-hung Leon has his father's great voice; fat, physically repellent Saul has the brains, recognizing Leon as his meal ticket. After escaping from the orphanage, they wind up in backwoods Florida, adopted by snake-handling Pentecostalists. Ferguson deftly juggles his three storylines. George, postponing suicide, travels to Paris and falls in love with gorgeous Claudette, the ultimate femme fatale (her six Great Loves have all died); she will help him find his "inner Frenchman." The hard-drinking, whoring Fraser will be mugged in Miami and have a near-death experience. Leon and Saul will make a bundle in Hollywood (Ferguson looks balefully at its shark-infested waters) before scoring big on the religious circuit. There will be happy endings for everybody except the hateful, manipulative Saul.
Profane on its surface, ethical at its core and always fun, this debut marks the arrival of an important comic talent. Kirkus Reviews, starred review
Happily going along for the ride
There's a good chance that after reading Craig Ferguson's impressive debut novel you'll want to tune in to CBS' "The Late Late Show" simply out of curiosity. It isn't often that one comes across a talk show host who can hold his own as a literary storyteller.
Imagine Johnny Carson crossed with Kurt Vonnegut. Although that analogy isn't perfectly accurate, it is the kind of colorful merger that would be right at home in the pages of Ferguson's colorful chronicle, "Between the Bridge and the River."
The story of four (ultimately interconnected) characters and their life journeys begins simply enough. Two 13-year-old boys, George and
Advertisement