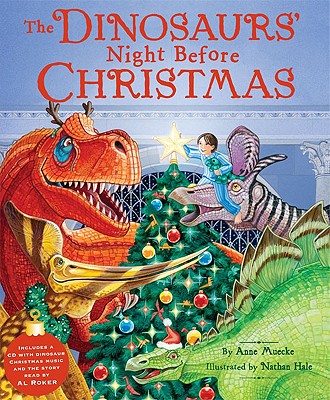 The Dinosaurs' Night Before Christmas [With CD] (Hardcover)
Chronicle Books (CA), 9780811863223, 32pp.
Publication Date: November 1, 2008
Description
The dinosaur fossils in the museum come to life (and sing, dance, and eat gingerbread) in this rollicking twist on the classic poem 'Twas the Night Before Christmas. And with the enclosed CD, children of all ages can enjoy dinosaur-themed Christmas party music, and hear the story read aloud by the Today Show's Al Roker A portion of the proceeds from the sale of the book goes to support the American Museum of Natural History in New York, where the story is set.
About the Author
Anne Muecke spent much of her childhood roaming the halls of the American Museum of Natural History, and volunteered as a docent in the dinosaur halls after their renovation in 1996. She lives in New York City. Nathan Hale has painted dinosaur murals in museums around the country. He has also written and illustrated two picture books, Yellowbelly and Plum Go to School and The Devil You Know. He lives in Provo, Utah.
Advertisement