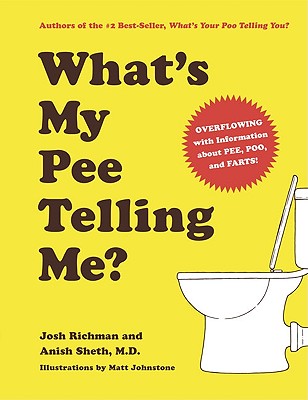 What's My Pee Telling Me? (Hardcover)
Chronicle Books, 9780811868778, 128pp.
Publication Date: September 9, 2009
* Individual store prices may vary.
Description
What goes in must come out. It's that simple. But what does it all mean? Therein lies the mysteryand the key to your health and happiness. In this entertaining and fact-filled guide, the authors of the best-selling What's Your Poo Telling You? expand their probing inquiry into the workings of the human body to reveal the secrets and splendors of farts and pee, as well as more about their inevitable companion, poo. In the shocking and informative final section, the authors explode a variety of popular myths about the gastrointestinal tract. After reading this book, you'll never think of your bodily functions in the same way again!
About the Author
Josh Richman holds an MBA from Stanford University and lives in the San Francisco Bay Area. He met his coauthor when they were undergraduates at Brown University, but his interest in bodily functions extends back to his childhood.

Anish A. Sheth, M.D., holds a medical degree from Brown University and is currently a gastroenterologist and assistant professor of medicine at Yale University. He lives in Connecticut with his wife and son. Despite his love for poo (and pee), Anish is enjoying parental life after potty training.