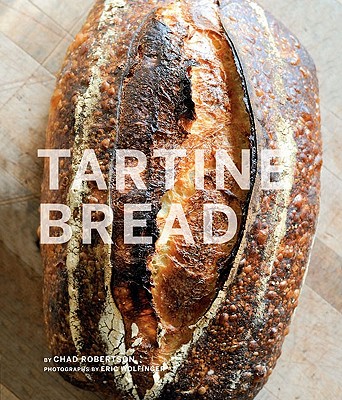 Tartine Bread (Artisan Bread Cookbook, Best Bread Recipes, Sourdough Book)
Hardcover

* Individual store prices may vary.
Description
"The most beautiful bread book yet published..." – The New York Times

From Chad Robertson, Winner, James Beard Award for Outstanding Pastry Chef, 2008

Tartine – A bread bible for the home baker or professional bread-maker: It comes from Chad Robertson, a man many consider to be the best bread baker in the United States, and co-owner with Elizabeth Prueitt of San Francisco's Tartine Bakery. At 5 P.M., Chad Robertson's rugged, magnificent Tartine loaves are drawn from the oven. The bread at San Francisco's legendary Tartine Bakery sells out within an hour almost every day.

Only a handful of bakers have learned the bread science techniques Chad Robertson has developed: To Chad Robertson, bread is the foundation of a meal, the center of daily life, and each loaf tells the story of the baker who shaped it. Chad Robertson developed his unique bread over two decades of apprenticeship with the finest artisan bakers in France and the United States, as well as experimentation in his own ovens. Readers will be astonished at how elemental it is.

Bread making the Tartine Way: Now it's your turn to make this bread with your own hands. Clear instructions and hundreds of step-by-step photos put you by Chad's side as he shows you how to make exceptional and elemental bread using just flour, water, and salt.

If you liked Tartine All Day by Elisabeth Prueitt and Flour Water Salt Yeast by Ken Forkish, you'll love Tartine Bread!

Additional categories for this book include:
Baking Books
Baking Recipe Books
Baking Cook Books
Bread Recipe Books
Praise For Tartine Bread (Artisan Bread Cookbook, Best Bread Recipes, Sourdough Book)…
"...the most beautiful bread book yet published..." -- The New York Times

"Chad Robertson's recipe for country bread, from Tartine, his bakery in San Francisco, has reached cult status among passionate bakers for good reason: As bread recipes go, it's nearly perfect." -New York Times

"It's absolutely lovely. It's informative, it's inspiring, it's visually stunning. Chad gives you step-by-step instructions, guiding you (in pedestrian terminology) through the process of making his Basic Country Bread and Eric Wolfinger (who used to bake bread at the bakery) walks you through each step with his almost tactile, moving photos. It is as I knew it would be: a very special book." -KQED

"Tartine Bread is an addicting read, leaving the reader wanting to know more about sourdough. The recipe for a basic country loaf is easy to follow and great for beginners. Robertson himself says "The thought [.] is that anyone can pick up this book and make a good loaf of bread using this chapter alone." I can attest to this - Tartine was my inspiration to begin sourdough baking, and I continue to reference it." -Leavenly

"Mr. Robertson spares no detail in describing each step of the process which, when you factor in his stories about developing the bread, the various experiences of the home kitchen testers and a few variations on the classic recipe, comes in at over 100 pages, many of them full of photographs. Remember, it took him almost two decades and several stints of apprenticeship to perfect this bread so a few pages of reading shouldn't be a problem. Besides, it's a really interesting story, appealing to the almost unavoidable sense of romance and dedication many people have towards such endeavors." -Apartment Therapy
Chronicle Books, 9780811870412, 304pp.
Publication Date: September 29, 2010
About the Author
Chad Robertson trained at the Culinary Institute of America and, with his wife Elisabeth Prueitt, won the James Beard Outstanding Pastry Chef Award in 2008.

Eric Wolfinger is a photographer, surfer, and bread-making apprentice at Tartine Bakery. Like Chad, he lives in San Francisco.
Coverage from NPR