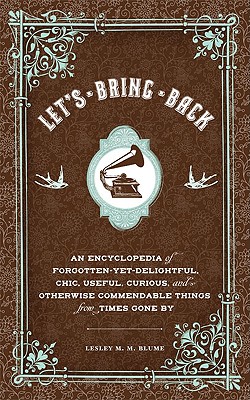 Let's Bring Back (Hardcover)
An Encyclopedia of Forgotten-Yet-Delightful, Chic, Useful, Curious, and Otherwise Commendable Things from Times Gone By
Chronicle Books, 9780811874137, 256pp.
Publication Date: September 29, 2010
* Individual store prices may vary.
Description
The Huffington Post's "Let's Bring Back..." columnist, Lesley M. M. Blume, invites you to consider whatever happened to cuckoo clocks? Or bed curtains? Why do we have so many "friends" but have done away with the much more useful word "acquaintance"? All of these things, plus hot toddies, riddles, proverbs, corsets, calling cards, and many more, are due for a revival. Throughout this whimsical, beautifully illustrated encyclopedia of nostalgia, Blume breathes new life into the elegant, mysterious, and delightful trappings of bygone eras, honoring the timeless tradition of artful living along the way. Inspired by her much loved column of the same name and featuring entries from famous icons of style and culture, Let's Bring Back leads readers to rediscover the things that entertained, awed, beautified, satiated, and fascinated in eras past.
About the Author
Lesley M. M. Blume has written for a number of publications, from Slate to Vogue, and is the contributing Style section editor at the Huffington Post. She is also the author of several critically acclaimed children's books. She lives in New York City.
Praise For Let's Bring Back: An Encyclopedia of Forgotten-Yet-Delightful, Chic, Useful, Curious, and Otherwise Commendable Things from Times Gone By…
"Whimsical, entertaining, enlightening, and utterly captivating." - Styleite

"Whimsical yet informative encyclopedia ... elegant ... useful ... As Blume herself might put it, we just think this book is the bee's knees." - O, The Oprah Magazine

"Whimsical ... comical ... delightful ... Blume's book is about more than just populating your life with antique trinkets; it's about curating your own charming lifestyle while celebrating the Wildean ideals of life as art." - The New Yorker

"Wistful ... zeitgeisty ... charming." - Elle

"A charming slip of a book...that quite deliciously and convincingly has the romantics among us pining for the ways of the dearly held past." - The Chicago Tribune

"This book is a must-have! " - BlackBook

"Let's Bring Back promotes and revels in an idea of life that's lived in 3-D, not 2-D, a life lived civically and civil-y. And that is a very wonderful thing." - Sally Singer, editor, T: The New York Times Style Magazine

"Let's Bring Back is an ode to everything we miss in our current mad dash of a modern world. [Lesley M. M. Blume] must have been conceived from the hat pin of Dorothy Parker when it fell into a flute of champagne at Noel Coward's. Her wit, wisdom, and boldness are rare in this day and age." - Full Frontal Fashion

"It's a gorgeously illustrated champagne bubble of a read." - Refinery 29

"Delightful ... witty ... recommended reading." - Country Living

"Delightful ... full of fascinating things ... charming, sharp, and well-researched ... I read the entire book on a cross-country flight, and felt like I'd spent the time with a brilliant new friend." - Apartment Therapy

"Beautiful ... delightful ... a lovely read." - Robin Roberts, Good Morning America

"A humorous ode to preservation and the art of rediscovery - heartily recommended." - The Wall Street Journal