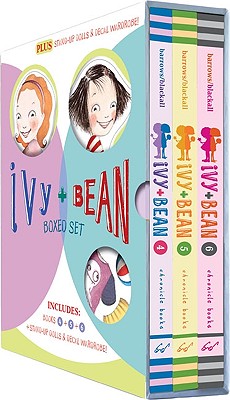 Ivy and Bean Boxed Set 2
(Children's Book Collection, Boxed Set of Books for Kids, Box Set of Children's Books) (Ivy & Bean Bundle Set)
Paperback

* Individual store prices may vary.
Other Editions of This Title:
Paperback (5/3/2007)
Hardcover (4/20/2006)
Library Binding (8/1/2011)
Prebound (7/1/2007)
Prebound (7/1/2007)
Description
New York Times best-selling series of books for children - Ivy + Bean
Ivy and Bean, two friends who never meant to like each other: This boxed set, Ivy and Bean Boxed Set 2 (Books 4-6) continues the story of these two spunky characters. It includes the second of three books in the Ivy and Bean series.
Author Annie Barrows talks about her award-winning Ivy + Bean series: One of the big problems of being a kid is that your parents often try to make you play with people you don't really like. My parents were forever trying to get me to like the kids of their friends. These kids were often weird. I didn't want to play with them. It was a problem.
Ivy and Bean are very different: Bean is loud and wild and goofy. She loves to be involved in games and poke her nose in other people's business. Ivy is quiet and full of ideas. She spends most of her time learning how to be a witch. Each girl thinks the other one is weird. Each girl thinks she could never be friends with the other. Especially because their parents keep nagging them about it. But sometimes opposites can become the best of friends because they're opposites.
Ivy and Bean Boxed Set 2 (Books 4-6) includes:
Book 4: Ivy + Bean Take Care of the Babysitter : What's the worst babysitter you can imagine? Okay, now multiply by a million. Bean's just found out that Nancy is babysitting for the afternoon. After Ivy rescues her from prison, the two girls turn tragedy into opportunity.
Book 5: Ivy + Bean: Bound to Be Bad: Ivy has decided to become good. Extra-super-duperly good. Bean figures that's a big waste of time-until Ivy explains that if you're really good, animals and birds follow you around. Wow! Animals and birds! Bean's going to be good, too! They're going to be nice; they're going to be sweet; they're going to be kind and generous and-Wait a second! How did they end up muddy, wet, and in trouble?
Book 6: Ivy + Bean: Doomed to Dance: Ooops. Ivy and Bean have made a terrible mistake. They thought that ballet meant leaping, kicking, and cool costumes. Instead, it means they're going to have to be The Two Friendly Squids in a ballet the teacher made up. How embarrassing. As disaster looms, the girls come up with a great escape plan. It's an easy plan, a simple plan, a beautiful plan. It only involves a field trip, a couple of sharks, and some weird animals that glow in the dark.
If you and your child liked Junie B. Jones, Magic Tree House books, and Princess in Black; yo
Praise For Ivy and Bean Boxed Set 2: (Children's Book Collection, Boxed Set of Books for Kids, Box Set of Children's Books) (Ivy & Bean Bundle Set)…
"Annie Barrows accomplishes the almost impossible task of reflecting the world of second grader, creating the tension and drama of family and friendships in language that can be read easily by child who recently graduated from easy readers to early chapter books. " - Lisa Von Drasek, Children's Librarian, Bank Street College of Education
Chronicle Books, 9780811876650, 392pp.
Publication Date: October 6, 2010
About the Author
Annie Barrows is the author of many books for adults, including the bestselling The Guernsey Literary and Potato Peel Pie Society, but Ivy and Bean is her first series for kids. She lives in Northern California with her husband and two daughters.

Sophie Blackall is an Australian illustrator whose previous books include Ruby's Wish and Meet Wild Boars. She lives in Brooklyn, New York.