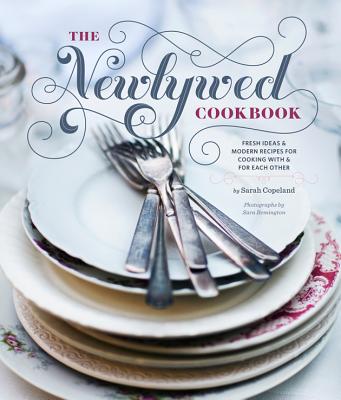 Newlywed Cookbook (Hardcover)
Fresh Ideas & Modern Recipes for Cooking with & for Each Other
Chronicle Books, 9780811876834, 304pp.
Publication Date: December 28, 2011
* Individual store prices may vary.
Description
This cookbook is an indispensable reference for modern couples looking to spend quality time together in the kitchen. Inside are more than 130 recipes for both classic and contemporary cooking that are perfect for day-to-day deux and special occasions with family and friends. More than a collection of recipes, The Newlywed Cookbook is also a guide to domestic bliss. Author Sarah Copeland, a newlywed herself, knows that sourcing, cooking as well as sharing food together at the table makes for a happy couple! This beautiful and sophisticated contemporary cookbook is the new go-to for brides and grooms.
About the Author
Sarah Copeland is a New York City-based writer, food expert, urban gardener and curator of good living. A Food Network veteran, she was a co-founder and former spokesperson for Food Network and Share Our Strength's Good Food Gardens campaign. She has appeared as a guest chef on Good Morning America and ABC News Now. Sarah's recipes and articles have appeared in national magazines such as The Food Network Magazine, Real Simple, Saveur and Fitness. Her debut cookbook, The Newlywed Cookbook: Recipes for Cooking With and For Each Other is packed with flavor and fun for twosomes looking to create a delicious life together. Sarah's Edible Living philosophy begins with locally sourced ingredients and an appetite for life. She finds inspiration in family meals, homegrown veggies, stinky cheeses, and chocolate cake. She lives and feasts with her husband, András and their new addition, Greta. Read more about her adventures at edibleliving.com.
Praise For Newlywed Cookbook: Fresh Ideas & Modern Recipes for Cooking with & for Each Other…
As soon as you crack the book open, you'll quickly see that this is no ordinary newlywed-targeted cookbook. It isn't trying to teach you how to just barely hold things together in the kitchen.Instead, it aims to inspire you to bring the love of your relationship and to translate it into the food you prepare together. While none of the recipes are difficult by any means, they're all dishes that you'd be proud to put on your table, whether that table belongs to a newlywed couple or not.- Huffington Post

If you swoon to chewy, gooey cookies with a divinely inspired ratio of rich, buttery cookie to melted chocolate, well, we assume by now you've stopped reading this note and skipped to the recipe. If not, just wait. You'll see.

With recipes catered towards modern couples looking to spend quality time together in the kitchen, it has me hyperventilating with gorgeous photos and the tastiest looking recipes. This now tops my list as the go-to gift for newly engaged friends.

Thank goodness Sarah Copeland wrote the "Newlywed Cookbook" - I can't even count how many couples I've given it to. It's the perfect shower gift, alone or tied up with a few kitchen tools. And it's just the right present to bring the first time you're invited to the new couple's home. Such a smart book!