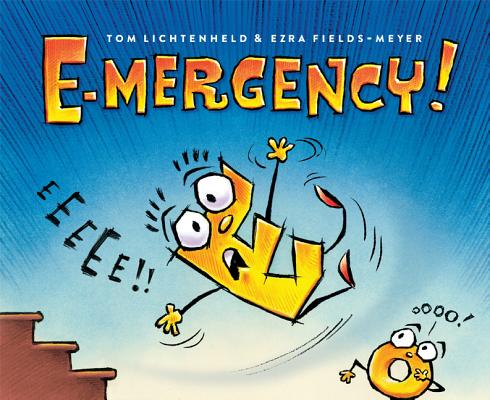 E-mergency! (Hardcover)
Chronicle Books, 9780811878982, 40pp.
Publication Date: October 19, 2011
Other Editions of This Title:
Paperback (8/12/2014)
* Individual store prices may vary.
Description
It's an E-mergency! The letter E took a tumble and the only way to get her back on her foot is for people to stop using her. But who can take her place? The other letters have to make a decision ASAP. Z is too sleepy and Y asks way too many questions. Thankfully, O rolls in to try and save the day. Now E can rost up and got bottor . . . as long as ovorybody follows the rulos. Chock-full of verbal and visual puns, this zany book is sure to tickle both the brain and the funny bone.
About the Author
TOM LICHTENHELD loves drawing pictures and telling silly stories. His books include the New York Times best sellers Duck! Rabbit!, Shark Vs. Train, and Goodnight, Goodnight, Construction Site. He lives in Geneva, Illinois.

Ezra Fields-Meyer is a high school student and an expert on animated movies and animals. He is the creator of the animated short Alphabet House, which inspired this book, and is the subject of the memoir Following Ezra (by his father, Tom Fields-Meyer). He and his family live in Los Angeles, California.
Praise For E-mergency!…
"Every page is chock-full of inventive letter-play" - The New York Times

There are laughs, many laughs, on every page." - Chicago Tribune

"Zany" - Kirkus Reviews

"Witty entertainment from A to Z." - Publishers Weekly, starred review

"What happens when the letter "E'' has an accident and slides out of the language? Sheer madness, enhanced by Lichtenheld and Fields-Meyers's unceasingly witty, manic visual, and verbal jokes." - Boston Globe Best Books The Year

"Visual and print punnery will have elementary kids (and adults) guessing and laughing". - Kirkus Reviews

"This book is a hilarious way to appreciate the vowel E - and practice deciphering secret codes. I've never read such a wacky book that is so fun to read aloud with the kids!" - Babble.com/Top 20 Children's Books of 2011

"This artwork takes a funny story and makes it hilarious.... Kids and adults will get more of the sly humor each time they read this book." - School Library Journal, Starred Review

"The pages are jam-packed with so many linguistic puns, acronyms, and jokes that readers may not realize how much they're learning about language along the way. Throo choors!" - Publishers Weekly Best Children's Picture Books of 2011

"Nontraditional, rascally, downright hilarious alphabet book" - Booklist, starred review

"It's like Chicka Chicka Boom Boom on steroids."- Publishers Weekly, starred review

"Five- to eight-year olds will be charmed by this alphabet book's good humor and the rib-tickling illustrations that accompany the text. Me too." - Nancy Pearl, Book Lust, Seattle, WA