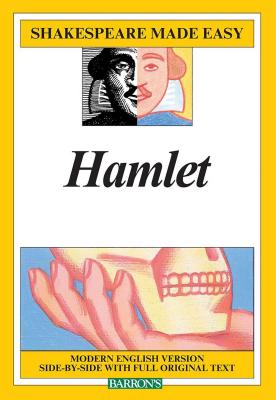 Hamlet (Shakespeare Made Easy)
Paperback

* Individual store prices may vary.
Other Editions of This Title:
Paperback (1/26/2014)
Paperback (8/30/2006)
Paperback (11/9/2017)
Paperback (4/21/2019)
Paperback (1/31/2014)
Paperback, Spanish (10/30/2014)
Paperback, Large Print (6/14/2016)
Paperback (2/4/2009)
Paperback (4/8/2012)
Paperback (7/16/2018)
Paperback, Spanish (10/3/2013)
Paperback (5/27/1999)
Paperback (2/21/2013)
Paperback (3/9/2018)
Paperback (4/13/2014)
Paperback (2/17/2020)
Hardcover (10/15/2008)
Paperback (7/11/2019)
Description
Here are the books that help teach Shakespeare plays without the teacher constantly needing to explain and define Elizabethan terms, slang, and other ways of expression that are different from our own. Each play is presented with Shakespeare's original lines on each left-hand page, and a modern, easy-to-understand "translation" on the facing right-hand page. All dramas are complete, with every original Shakespearian line, and a full-length modern rendition of the text. These invaluable teaching-study guides also include:
Helpful background information that puts each play in its historical perspective.
Discussion questions that teachers can use to spark student class participation, and which students can use as springboards for their own themes and term papers.
Fact quizzes, sample examinations, and other features that improve student comprehension of what each play is about.
Barrons Educational Series, 9780812036381, 336pp.
Publication Date: January 1, 1986
About the Author
William Shakespeare was born in April 1564 in the town of Stratford-upon-Avon, on England's Avon River. When he was eighteen, he married Anne Hathaway. The couple had three children—an older daughter Susanna and twins, Judith and Hamnet. Hamnet, Shakespeare's only son, died in childhood. The bulk of Shakespeare's working life was spent in the theater world of London, where he established himself professionally by the early 1590s. He enjoyed success not only as a playwright and poet, but also as an actor and shareholder in an acting company. Although some think that sometime between 1610 and 1613 Shakespeare retired from the theater and returned home to Stratford, where he died in 1616, others believe that he may have continued to work in London until close to his death.