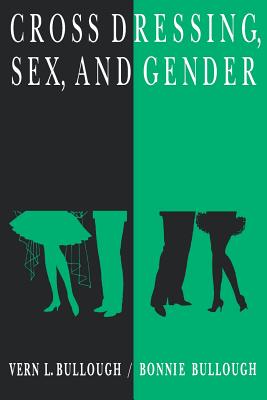 Cross Dressing, Sex, and Gender
Paperback

* Individual store prices may vary.
Description
In any society, the perception of femininity and masculinity is not necessarily dependent on female or male genitalia. Cross dressing, gender impersonation, and long-term masquerades of the opposite sex are commonplace throughout history.
In contemporary American culture, the behavior occurs most often among male heterosexuals and homosexuals, sometimes for erotic pleasure, sometimes not. In the past, however, cross dressing was for the most part practiced more often by women than men. Although males often burlesqued women and gave comic impersonations of them, they rarely attempted a change of public gender until the twentieth century. This phenomenon, according to Vern L. Bullough and Bonnie Bullough, has implications for any understanding of the changing relationships between the sexes in the twentieth century.
In most Western societies, being a man and demonstrating masculinity is more highly prized than being a woman and displaying femininity. Some non-Western societies, however, are more tolerant and even encourage men to behave like women and women to act like men. Cross Dressing, Sex, and Gender not only surveys cross dressing and gender impersonation throughout history and in a variety of cultures but also examines the medical, biological, psychological, and sociological findings that have been presented in the modern scientific literature. This volume offers the results of the authors' research into contemporary gender issues and the search for explanations. After examining the various current theories regarding cross dressing and gender impersonation, the Bulloughs offer their own theory.
This book, widely deemed a classic in its field, is the culmination of thirty years of research by the Bulloughs into gender impersonation and cross dressing. Their groundbreaking findings will be of interest to anyone involved in the debate over nature versus nurture, and have implications not only for scholars in the various social sciences and sex and gender studies, but for educators, nurses, physicians, feminists, gays, lesbians, and general readers. This work will be of more personal interest to anyone who identifies as a transvestite or transsexual or who has been classified by medical and psychiatric professionals as suffering from gender dysphoria.
Cross Dressing, Sex, and Gender covers a wide range of cultures and periods. As the first comprehensive attempt to examine the phenomenon of cross dressing, it will be of interest to students and scholars of social history, sociology, nursing, and women's studies.
University of Pennsylvania Press, 9780812214314, 400pp.
Publication Date: January 1, 1993
About the Author
Vern L. Bullough is SUNY Distinguished Professor in History and Social Studies at the State University of New York and in the School of Nursing at the State University of New York. Bonnie Bullough is Professor in the School of Nursing at the State University of New York. The Bulloughs have coauthored a number of books on various aspects of sex and gender, including Contraception: A Guide to Birth Control Methods and Women and Prostitution. Both have also written extensively, sometimes together and other times individually, on the issues of sex and gender, health care, and the history of science, medicine, and nursing.