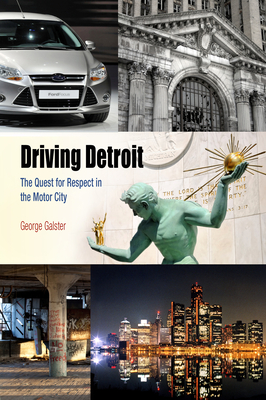 Driving Detroit
The Quest for Respect in the Motor City (Metropolitan Portraits)
Paperback

* Individual store prices may vary.
Description
Driving Detroit The Quest for Respect in the Motor City George Galster "An insightful history of Detroit from its accidental birth to its tortured present."--Planning "An immensely readable and personal book. Underlying Galster's] fine analysis of how the city went from arsenal of democracy and engine of America's manufacturing might to its current state of terrible decay is a deep knowledge of its streets, its music, its history, and its people."--Urban Affairs "Driving Detroit is replete with interesting insights on the social history of one of America's most troubled cities. George Galster has done a remarkable job of revealing how powerful elements in the Detroit metropolitan area created over time intense race and class polarization and a pronounced city-suburban dichotomy. There are lessons to be learned from this compelling study of a dysfunctional metropolitan region. Indeed, Galster's illuminating analysis is a must-read."--William Julius Wilson, Harvard University "George Galster cares deeply about Detroit--as should we all. In this clever and highly readable book, he draws upon history, social science, music, poetry and art to build a compelling case that bitter, unresolved conflicts have trapped the region in a zero-sum game, undermining the well-being of its people and communities--past, present, and future. Although Detroit is unique in many respects, the conflicts that bedevil it are not. There's a lot to learn here for anyone who cares about 21st-century urban America."--Margery Austin Turner, The Urban Institute "Like a good documentary, Driving Detroit expertly guides us through a fascinating yet grim and sad urban reality while exposing the deeper historical impact of economic restructuring, enduring racism, and selfish politics. And yet the insights connected to this extreme case are not confined only to Detroit. This book should be compulsory reading for urbanists in the U.S. and beyond who are searching for adequate responses to the challenges of their own cities."--Sako Musterd, University of Amsterdam For most of the twentieth century, Detroit was a symbol of American industrial might, a place of entrepreneurial and technical ingenuity where the latest consumer inventions were made available to everyone through the genius of mass production. Today, Detroit is better known for its dwindling population, moribund automobile industry, and alarmingly high murder rate. In Driving Detroit, author George Galster, a fifth-generation Detroiter and internationally known urbanist, sets out to understand how the city has come to represent both the best and worst of what cities can be, all within the span of a half century. Galster invites the reader to travel with him along the streets and into the soul of this place to grasp fully what drives the Motor City. George Galster is Clarence Hilberry Professor of Urban Affairs in the Department of Urban Studies and Planning at Wayne State University in Detroit. Metropolitan Portraits 2012 320 pages 6 x 9 26 illus. ISBN 978-0-8122-4429-8 Cloth $45.00s 29.50 ISBN 978-0-8122-2295-1 Paper $22.50s 15.00 ISBN 978-0-8122-0646-3 Ebook $22.50s 15.00 World Rights Social Science, General, Geography Short copy: Driving Detroit paints a portrait of metropolitan Detroit through an imaginative application of social science, song lyrics, poems, and oral history to explain why the city has fallen from industrial powerhouse into urban dysfunction.
University of Pennsylvania Press, 9780812222951, 320pp.
Publication Date: January 17, 2014
About the Author
George Galster is Clarence Hilberry Professor of Urban Affairs in the Department of Urban Studies and Planning at Wayne State University in Detroit.