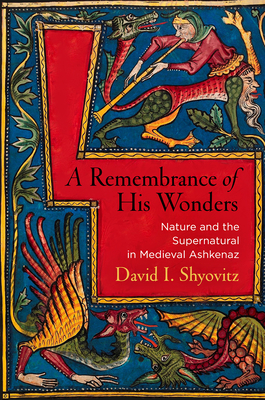 A Remembrance of His Wonders
Nature and the Supernatural in Medieval Ashkenaz (Jewish Culture and Contexts)
Hardcover

* Individual store prices may vary.
Description
The twelfth and thirteenth centuries witnessed an explosion of Christian interest in the meaning and workings of the natural world--a discovery of nature that profoundly reshaped the intellectual currents and spiritual contours of European society--yet to all appearances, the Jews of medieval northern Europe (Ashkenaz) were oblivious to the shifts reshaping their surrounding culture. Scholars have long assumed that rather than exploring or contemplating the natural world, the Jews of medieval Ashkenaz were preoccupied solely with the supernatural and otherworldly: magic and mysticism, demonology and divination, as well as the zombies, werewolves, dragons, flying camels, and other monstrous and wondrous creatures that destabilized any pretense of a consistent and encompassing natural order.
In A Remembrance of His Wonders, David I. Shyovitz disputes this long-standing and far-reaching consensus. Analyzing a wide array of neglected Ashkenazic writings on the natural world in general, and the human body in particular, Shyovitz shows how Jews in Ashkenaz integrated regnant scientific, magical, and mystical currents into a sophisticated exploration of the boundaries between nature and the supernatural. Ashkenazic beliefs and practices that have often been seen as signs of credulity and superstition in fact mirrored--and drew upon--contemporaneous Christian debates over the relationship between God and the natural world. In charting these parallels between Jewish and Christian thought, Shyovitz focuses especially upon the mediating role of polemical texts and encounters that served as mechanisms for the transmission of religious doctrines, scientific facts, and cultural mores. Medieval Jews' preoccupation with the apparently supernatural reflected neither ignorance nor intellectual isolation but rather a determined effort to understand nature's inner workings and outer limits and to integrate and interrogate the theologies and ideologies of the broader European Christian society.
University of Pennsylvania Press, 9780812249118, 352pp.
Publication Date: June 13, 2017
About the Author
David I. Shyovitz teaches history and Jewish studies at Northwestern University.