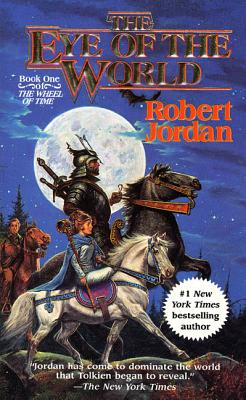 The Eye of the World
Book One of The Wheel of Time
Mass Market

* Individual store prices may vary.
Other Editions of This Title:
Digital Audiobook (4/30/2004)
Mass Market (10/29/2019)
Paperback (8/11/2020)
Hardcover (1/15/1990)
Hardcover (10/6/2020)
Paperback (2/15/1990)
Hardcover (1/29/2013)
Compact Disc (4/6/2004)
CD-Audio (5/5/2015)
Compact Disc (5/1/2004)
Hardcover (11/1/2011)
Prebound (11/15/1990)
Mass Market Paperback (9/1/2000)
Paperback (5/8/2012)
Description
The Wheel of Time ® is a PBS Great American Read Selection! Now in development for TV!
Since its debut in 1990, The Wheel of Time® by Robert Jordan has captivated millions of readers around the globe with its scope, originality, and compelling characters.
The Wheel of Time turns and Ages come and go, leaving memories that become legend. Legend fades to myth, and even myth is long forgotten when the Age that gave it birth returns again. In the Third Age, an Age of Prophecy, the World and Time themselves hang in the balance. What was, what will be, and what is, may yet fall under the Shadow.
When The Two Rivers is attacked by Trollocs—a savage tribe of half-men, half-beasts— five villagers flee that night into a world they barely imagined, with new dangers waiting in the shadows and in the light.
TV series update: "Sony will produce along with Red Eagle Entertainment and Radar Pictures. Rafe Judkins is attached to write and executive produce. Judkins previously worked on shows such as ABC's "Agents of SHIELD," the Netflix series "Hemlock Grove," and the NBC series "Chuck." Red Eagle partners Rick Selvage and Larry Mondragon will executive produce along with Radar's Ted Field and Mike Weber. Darren Lemke will also executive produce, with Jordan's widow Harriet McDougal serving as consulting producer." —Variety
The Wheel of Time®
New Spring: The Novel
#1 The Eye of the World
#2 The Great Hunt
#3 The Dragon Reborn
#4 The Shadow Rising
#5 The Fires of Heaven
#6 Lord of Chaos
#7 A Crown of Swords
#8 The Path of Daggers
#9 Winter's Heart
#10 Crossroads of Twilight
#11 Knife of Dreams
By Robert Jordan and Brandon Sanderson
#12 The Gathering Storm
#13 Towers of Midnight
#14 A Memory of Light
By Robert Jordan and Teresa Patterson
The World of Robert Jordan's The Wheel of Time
By Robert Jordan, Harriet McDougal, Alan Romanczuk, and Maria Simons
The Wheel of Time Companion
By Robert Jordan and Amy Romanczuk
Patterns of the Wheel: Coloring Art Based on Robert Jordan's The Wheel of Time
Praise For The Eye of the World: Book One of The Wheel of Time…
"The Eye of the World is the best of its genre." – The Ottawa Citizen
"A splendid tale of heroic fantasy, vast in scope, colorful in detail, and convincing in its presentation of human character and personality." – L. Sprague de Camp
"This richly detailed fantasy presents fully realized, complex adventure. Recommended."- Library Journal
"This one is as solid as a steel blade and glowing with the true magic. Robert Jordan deserves congratulations." – Fred Saberhagen
"One hell of a story. [It] kept me up past my bedtime for three nights running— and it's been a long time since a novel's done that." – Baird Searles, Asimov's Science Fiction
"A future collector's item. Jordan has brought out a completely new allegory in a fantasy concept that goes even beyond this massive story, working with an artist's eye and the sense of responsibility of a serious historian." – Gordon R. Dickson
"Classic oppositions are brought into play: initiates versus innocents, good versus evil, the spiritual power of women versus that of men. The travelers themselves are full of subtleties and shadows—ordinary villagers who, thrust into cosmic conflict, are unable to abandon their simple human desires and fears.
"This intricate allegorical fantasy recalls the works of Tolkien because of its intensity and warmth." – Publisher's Weekly
"Robert Jordan has come to dominate the world Tolkien began to reveal." – The New York Times
"This has magic and pacing and detail and human involvement, with a certain subtlety of a presentation and a grand central vision. Robert Jordan… is a lot of writer!" – Piers Anthony
"An exciting story; the reader is drawn in early and kept there until the last page. There is adventure and mystery and dark things that move in the night-- a combination of Robin Hood and Stephen King that is hard to resist… Jordan makes the reader care about these characters as though they were old friends; so much so that the reader will put down the book regretting the wait for the next title in the series." – Milwaukee Journal Sentinel
"A classic fantasy tale of the struggle between light and darkness, good and evil, death and life. Goodness, life, and light are always in retreat, always about to be defeated, but never quite! Don't miss it!" – Andrew M. Greeley
"Certainly a title I want to add to my permanent collection, and I shall be eagerly awaiting the sequel, which is promised at the end." – Andre Norton
Tor Fantasy, 9780812511819, 832pp.
Publication Date: November 15, 1990
About the Author
Robert Jordan was born in 1948 in Charleston, South Carolina. He taught himself to read when he was four with the incidental aid of a twelve-years-older brother, and was tackling Mark Twain and Jules Verne by five. He was a graduate of The Citadel, the Military College of South Carolina, with a degree in physics. He served two tours in Vietnam with the U.S. Army; among his decorations are the Distinguished Flying Cross with bronze oak leaf cluster, the Bronze Star with "V" and bronze oak leaf cluster, and two Vietnamese Gallantry Crosses with palm. A history buff, he also wrote dance and theater criticism and enjoyed the outdoor sports of hunting, fishing, and sailing, and the indoor sports of poker, chess, pool, and pipe collecting. Robert Jordan began writing in 1977 and went on to write The Wheel of Time®, one of the most important and best selling series in the history of fantasy publishing with over 14 million copies sold in North America, and countless more sold abroad. Robert Jordan died on September 16, 2007, after a courageous battle with the rare blood disease amyloidosis.
or
Not Currently Available for Direct Purchase