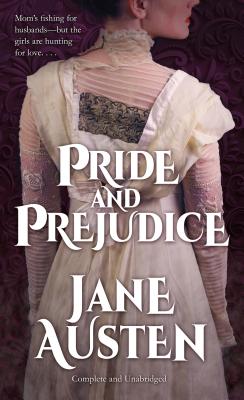 Pride and Prejudice (Tor Classics) (Paperback)
Tor Classics, 9780812523362, 352pp.
Publication Date: August 15, 1994
Other Editions of This Title:
Paperback (9/1/2004)
Paperback (9/11/2015)
Paperback (7/30/2008)
Paperback (5/31/2010)
Paperback (10/11/2014)
Paperback (9/8/2014)
Paperback (2/6/2015)
Paperback (5/1/2015)
Paperback (8/12/2010)
Paperback (8/28/2015)
Paperback (10/13/2015)
Paperback (1/28/2013)
Paperback (12/17/2011)
Paperback (6/27/2012)
Paperback (6/6/2013)
Paperback (3/23/2015)
Paperback (9/25/2014)
Paperback (8/11/2010)
Paperback (5/13/2013)
Paperback (3/25/2013)
* Individual store prices may vary.
Description
Tor Classics are affordably-priced editions designed to attract the young reader. Original dynamic cover art enthusiastically represents the excitement of each story. Appropriate "reader friendly" type sizes have been chosen for each title—offering clear, accurate, and readable text. All editions are complete and unabridged, and feature Introductions and Afterwords.
This edition of Pride and Prejudice includes an essay on the life and times of Jane Austen.
What's a girl to do?
Scatterbrained, social climbing Mrs. Bennet makes one demand of her five daughters.
Marry. Marry well. Marry RICH.
But sweet Jane is hopelessly in love with Mr. Bingley, who doesn't seem to notice. Flighty Lydia wants a man--any man--preferably one in uniform. Kitty just wants to have fun. Shy Mary has her nose in a book. And Elizabeth--brilliant, stubborn, independent Lizzy--refuses the advances of the most "marriageable" man in town--haughty, handsome, wealthy Mr. Darcy.
Mrs. Bennet's in hysterics, Mr. Bennet's in his study, Lydia's eloped with a soldier and Jane's heart may well be broken. Will any of the Bennet girls find true love and fortune?
About the Author
Jane Austen (1775-1817) was an English novelist whose works are among the most popular novels ever written. Her keen eye for social tension, and ear for taut, witty dialogue have delighted readers for centuries, while her novels have maintained historical importance through their analysis of the dependence of women on marriage to gain social standing and security. She has been widely adapted for both stage and screen, and continues to be among the most widely-read of late-18th-/early 19th-century writers.
or
Not Currently Available for Direct Purchase