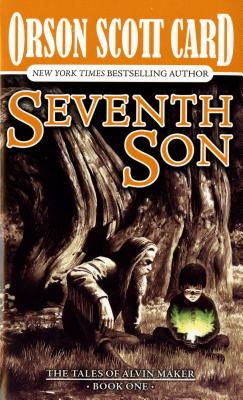 Seventh Son (Mass Market Paperbound)
Tor Books, 9780812533057, 256pp.
Publication Date: June 15, 1993
Description
From the author of Ender's Game, an unforgettable story about young Alvin Maker: the seventh son of a seventh son. Born into an alternative frontier America where life is hard and folk magic is real, Alvin is gifted with the power. He must learn to use his gift wisely. But dark forces are arrayed against Alvin, and only a young girl with second sight can protect him.
About the Author
Orson Scott Card is the author of the novels Ender's Game, Ender's Shadow, and Speaker for the Dead. Ender's Game and Speaker for the Dead both won Hugo and Nebula Awards, making Card the only author to win these two top prizes in consecutive years. There are seven other novels to date in The Ender Universe series. Card has also written fantasy: The Tales of Alvin Maker is a series of fantasy novels set in frontier America; his most recent novel, The Lost Gate, is a contemporary magical fantasy. Card has written many other stand-alone sf and fantasy novels, as well as movie tie-ins and games, and publishes an internet-based science fiction and fantasy magazine, Orson Scott Card's Intergalactic Medicine Show. Card was born in Washington and grew up in California, Arizona, and Utah. He served a mission for the LDS Church in Brazil in the early 1970s. Besides his writing, Card directs plays and teaches writing and literature at Southern Virginia University. He lives in Greensboro, North Carolina, with his wife, Kristine Allen Card, and youngest daughter, Zina Margaret.
Praise For Seventh Son…
"A consistently gripping tale featuring solid historical research and a keen understanding of religious experience. Another major effort by a world class talent. Highly recommended." —Booklist

"Captures the essence of a world where folk magic abounds. A tribute to the art of storytelling, this is highly recommended." —Library Journal

"This beguiling book recalls Robert Penn Warren in its robust blend of folktale, history, parable, personal testimony, and pioneer narrative." —Publishers Weekly
Advertisement