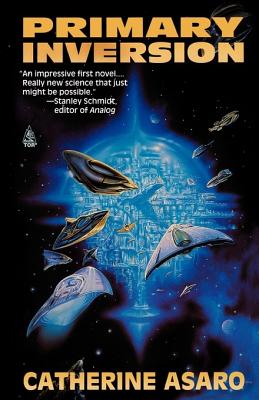 Primary Inversion: A Novel in the Saga of the Skolian Empire (Mass Market Paperback)
A Novel in the Saga of the Skolian Empire
Tor Books, 9780812550238, 384pp.
Publication Date: May 1, 1996
* Individual store prices may vary.
or
Not Currently Available for Direct Purchase
Description
The Skolian Empire rules a third of the civilized galaxy through its mastery of faster-than-light communication. But war with the rival empire of the Traders seems imminent, a war that can only lead to slavery for the Skolians or the destruction of both sides. Destructive skirmishes have already occurred. A desperate attempt must be made to avert total disaster.
About the Author
Catherine Asaro was born in Oakland, California and grew up in El Cerrito, just north of Berkeley. She received her Phd in Chemical Physics and MA in Physics, both from Harvard, and a BS with Highest Honors in Chemistry from UCLA. Among the places she has done research are the University of Toronto in Canada, the Max Planck Institut fur Astrophysik in Germany, and the Harvard-Smithsonian Center for Astrophysics. Her research involves using quantum theory to describe the behavior of atoms and molecules. Catherine was a physics professor until 1990, when she established Molecudyne Research, which she currently runs. A former ballerina, Catherine has performed with ballets and in musicals on both coasts and in Ohio. In the 1980s she was a principal dancer and artistic director of the Mainly Jazz Dancers and the Harvard University Ballet. Catherine still teaches ballet in Maryland.

Catherine's fiction is a successful blend of hard science fiction, romance, and exciting space adventure. She has published more than ten novels, almost all of which belong to her "Saga of the Skolian Empire," including "The Quantum Rose," which won the Nebula Award for best novel of 2001

Her husband is John Kendall Cannizzo, an astrophysicist at NASA. They have one daughter, a young ballet dancer who loves math.
Praise For Primary Inversion: A Novel in the Saga of the Skolian Empire…
"Catherine Asaro brings the feel of science back into science fiction. Her ftl drive, which rotates a ship around the lightspeed singularity, is based on pleasant mathematical concepts. Fourteen-year-olds who read this book will probably go out and build starship when they are twenty-seven."--Donald M. Kingsbury

"In an unusually masterful first novel, physicist Asaro combines hard speculative science and first-rate storytelling to look at the galaxy's distant future...Asaro innovatively blends computer technology and telepathy into the electrifying, action-rich drama she creates. This is one of the best SF first novels in years."--Booklist
Advertisement