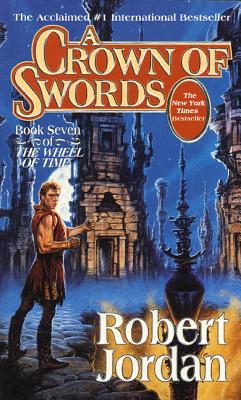 A Crown of Swords
Book Seven of 'The Wheel of Time'
Mass Market

* Individual store prices may vary.
Other Editions of This Title:
Digital Audiobook (10/30/2006)
Hardcover (5/15/1996)
Mass Market (2/25/2020)
Paperback (6/18/2013)
CD-Audio (10/17/2006)
Prebound (11/15/1997)
Leather (7/1/1996)
Description
Now an original series starring Rosamund Pike as Moiraine!

Since its debut in 1990, The Wheel of Time® by Robert Jordan has captivated millions of readers around the globe with its scope, originality, and compelling characters.

The Wheel of Time turns and Ages come and go, leaving memories that become legend. Legend fades to myth, and even myth is long forgotten when the Age that gave it birth returns again. In the Third Age, an Age of Prophecy, the World and Time themselves hang in the balance. What was, what will be, and what is, may yet fall under the Shadow.

Elayne, Aviendha, and Mat come ever closer to the bowl ter'angreal that may reverse the world's endless heat wave and restore natural weather. Egwene begins to gather all manner of women who can channel--Sea Folk, Windfinders, Wise Ones, and some surprising others. And above all, Rand faces the dread Forsaken Sammael, in the shadows of Shadar Logoth, where the blood-hungry mist, Mashadar, waits for prey.

The Wheel of Time®
New Spring: The Novel
#1 The Eye of the World
#2 The Great Hunt
#3 The Dragon Reborn
#4 The Shadow Rising
#5 The Fires of Heaven
#6 Lord of Chaos
#7 A Crown of Swords
#8 The Path of Daggers
#9 Winter's Heart
#10 Crossroads of Twilight
#11 Knife of Dreams

By Robert Jordan and Brandon Sanderson
#12 The Gathering Storm
#13 Towers of Midnight
#14 A Memory of Light

By Robert Jordan
Warrior of the Altaii

By Robert Jordan and Teresa Patterson
The World of Robert Jordan's The Wheel of Time

By Robert Jordan, Harriet McDougal, Alan Romanczuk, and Maria Simons
The Wheel of Time Companion

By Robert Jordan and Amy Romanczuk
Patterns of the Wheel: Coloring Art Based on Robert Jordan's The Wheel of Time
Praise For A Crown of Swords: Book Seven of 'The Wheel of Time'…
Praise for Robert Jordan


"His writing is distinguished as literature by the richness of its fabric, with all the charm and naïveté of the Brothers Grimm and the social/moral commentary of Huxley's Brave New World. With his well fleshed out characters, dark imagery, comic relief, vivid landscapes, and a fascinating sense of timelessness, Jordan has created a complex literature with a language and reality all of its own." – Brewster Milton Robertson, Myrtle Beach Sun-News


Praise for The Wheel of Time


"The Wheel of Time [is] rapidly becoming the definitive American fantasy saga. It is a fantasy ale seldom equaled and still less often surpassed in English." – Chicago Sun-Times


"Jordan's multi-volume epic [is] a feast for fantasy aficionados." – Library Journal


"For those who like to keep themselves in a fantasy world, it's hard to beat the complex, detailed world created here." – Locus


Praise for A Crown of Swords


"The seventh volume of Jordan's bestselling high fantasy series carries on the colossal, dauntingly complex storytelling established by the previous entries… Fans of the series will gobble down this generous addition." – Publishers Weekly (starred review)


"In the long-awaited sequel to the bestselling Lord of Chaos, Jordan returns to the [same] complex, detailed fantasy world… Highly recommended…" – Library Journal


"In the seventh volume of Jordan's preeminent high fantasy saga, intrigue and counter-intrigue continue to roil… This latest installment of a major fantasy epic definitely will not disappoint its fans." -- Booklist
Tor Fantasy, 9780812550283, 896pp.
Publication Date: November 15, 1997
About the Author
ROBERT JORDAN (1948-2007) is best known for his internationally bestselling epic fantasy series The Wheel of Time®, which has sold over 40 million copies in North America and is currently being adapted for the screen. A native of Charleston, Jordan graduated from The Citadel, the Military College of South Carolina, with a degree in physics. He served two tours in Vietnam with the U.S. Army and received multiple decorations for his service.
or
Not Currently Available for Direct Purchase