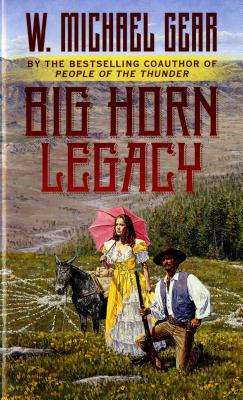 Big Horn Legacy (Mass Market)
Forge Books, 9780812567243, 464pp.
Publication Date: June 15, 1996
Other Editions of This Title:
Library Binding, Large Print (2/21/2018)
* Individual store prices may vary.
Description
The race is on in this novel of the American west, Big Horn Legacy, from the New York Times bestselling author W. Michael Gear
It is 1850 in St. Louis, and Abriel Catton receives the last will and testament of his father, Web catton, an enigmatic mountain man. Among the papers are instructions the Ab must reassemble his family: brother and sisters he can barely remember, that separated after the death of his mother. Together they will search for Will Catton's legacy, all the while pursued by Braxton Bragg and his desire for revenge and gold.
Also in pursuit of the Cattons is General Cavaignac. Fresh from fighting in Algeria, and now struggling for control of France, Cavaignac has heard rumors that the legacy of France is hidden somewhere in the American West. the skeins of Catton involvement are spun through L'Overture's revolt in the Dominican Republic, to Algeria, and now Cavaignac's agent Leander Sentor, is narrowing his pursuit on Arabella, Ab's sister, and the rest of the Cattons. Sentor will not rest until he recovers the legacy of France for his General, and repays Arabella for meddling in French affairs.
It's a race to the finish as the Cattons seeks to outmaneuver their pursuers and locate Web Catton's legacy. But first, the Cattons must renew the bonds of a family shattered by time and distance.
About the Author
W. Michael Gear, who holds a master's degree in archaeology, has worked as a professional archaeologist since 1978. He is currently principal investigator for Wind River Archaeological Consultants. With his wife, Kathleen O'Neal Gear, he has written the international and USA Today bestselling North America's Forgotten Past Series (including People of the Songtrail, People of the Morning Star, Sun Born, Moon Hunt, among others); and Anasazi Mystery Series.
or
Not Currently Available for Direct Purchase