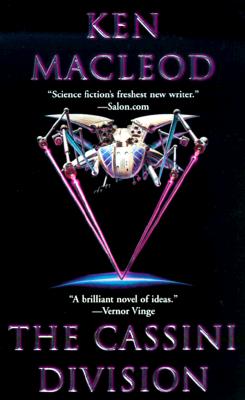 The Cassini Division (Mass Market Paperback)
Tor Science Fiction, 9780812568585, 320pp.
Publication Date: August 1, 2000
* Individual store prices may vary.
Description
Ellen May Ngewthu is a soldier and leader of the Cassini Division, the elite defense force of the utopian Solar Union. Here in the twenty-fourth century, the forts of the Division, in orbit around Jupiter, are the front line in humanity's long standoff with the unknowable post-humans godlike beings descended from the men and women who transformed themselves with high technology centuries ago.

The post-humans' capacities are unknown . . . but we know they disintegrated Ganymede, we know they punched a wormhole into Jovian space, and we know that the very surface of the solar system's largest planet has been altered by them. Worse, we know that they have been bombarding the inner solar system with powerful data viruses for generations.

Now Ellen has a plan to rid humanity of this threat once and for all. But she needs to convince others to mistrust the post-humans as much as she does. In the process, much will be revealed--about history, about power, and about what it is to be human.
About the Author
Ken MacLeod holds a degree in zoology and has worked in the fields of biomechanics and computer programming. His first two novels, "The Star Fraction "and "The Stone Canal," each won the Prometheus Award;" The Cassini Division" was a finalist for the Nebula Award; and "The Sky Road "won the British Science Fiction Association Award and is a finalist for the Hugo Award. "Dark Light "continues the world of his fifth novel, "Cosmonaut Keep." Ken MacLeod lives near Edinburgh, Scotland, with his wife and children.
Praise For The Cassini Division…
"Ken MacLeod is writin revolutionary SF. A nova has appeared in our sky."--Kim Stanley Robinson

"Deliciously ironic, brilliantly imagined, MacLeod's witty and intelligent yarn packs a tremendous wallop. More, please!"--Kirkus Reviews (pointer review)

"A brilliant novel of ideas, frequently funny, always ingenious. Ken MacLeod brings dramatic life to some of the core issues of technology and humanity."--Vernor Vinge
or
Not Currently Available for Direct Purchase