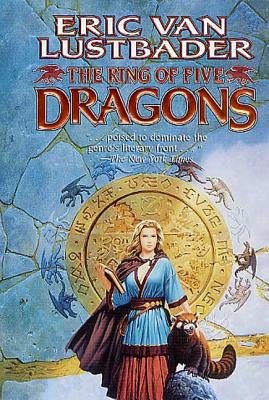 The Ring of Five Dragons (The Pearl #1)
Paperback

* Individual store prices may vary.
Description
A towering epic of fantasy, The Pearl, is launched in The Ring of Five Dragons. Filled with action, color, and the myriad details of another world, The Pearl is the first great fantasy series of the new millennium, set to rival Robert Jordan, David Eddings, George R. R. Martin, Terry Brooks, and Terry Goodkind in popular appeal.
This astonishing first volume opens as the Kundalan people have suffered for a century under the viciously oppressive, technologically-superior V'ornn invaders. In the resulting crisis of faith -- why hasn't their goddess Miina saved them? -- Kundalan religion has fallen under the control of evil forces from within who forbid the teaching of traditional sorcery, pretending to have no magic of their own. The V'ornn's mysterious leaders, the Gyrgon, know better, and search for the lost Ring of Five Dragons, the key to the door of the fabled Kundalan Storehouse, and perhaps to Kundalan sorcery as well.
But misused, the Ring is the trigger of seemingly inexorable annihilation for V'ornn and Kundalan alike. Now from among the oppressed must arise the hero of prophecy, the Dar Sala-at, who alone can wield the sorcerous power to save the world.
Thus begins a huge epic rooted in the conflict between spiritual and technological cultures. The twisting plot raises difficult and provocative moral questions in the course of a constantly surprising, sometimes shocking, fantastic adventure that will transport fantasy readers to new heights of enthusiasm, and make them ask for more.
Praise For The Ring of Five Dragons (The Pearl #1)…
"Lustbader's work is troubled by the growing conflict between technology and spirituality. . . . What is particularly compelling about The Ring of Five Dragons is the way Mr. Lustbader creates . . . [his] world." —The New York Times
"The Ring of Five Dragons, however, is not purely a fantasy novel. It . . . is a fusion, blending and breaking the barriers between technology and sorcery, pragmatism and mysticism. . . . Lustbader, as always, is full of surprises." —Chicago Sun-Times
Tor Fantasy, 9780812572339, 688pp.
Publication Date: July 14, 2002
About the Author
Eric Van Lustbader is the author of numerous bestselling thrillers, including Last Snow, First Daughter, Blood Trust, The Bourne Legacy, The Bourne Dominion and The Ninja and The Pearl series. His books have been translated into over twenty languages. Born and raised in Greenwich Village in New York City, Lustbader worked in the New York public school system and in the music business before turning to writing full-time. He lives in Manhattan and on the South Fork of Long Island with his wife, Victoria, who is also an accomplished author.
or
Not Currently Available for Direct Purchase