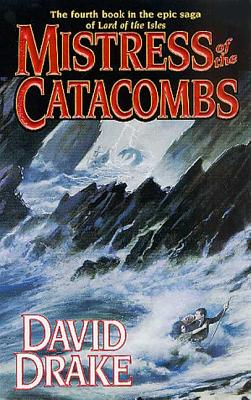 Mistress of the Catacombs
The fourth book in the epic saga of 'Lord of the Isles'
Mass Market

* Individual store prices may vary.
Other Editions of This Title:
Paperback (9/19/2002)
MP3 CD (5/3/2016)
Description
Return to the the epic tale of the Lord of the Isles, David Drake's saga of magic and might.
For the first time in a thousand years, the Kingdom of the Isles has a government and a real ruler: Prince Garric of Haft. The enemies joining against him intend to destroy not only the kingdom but humankind as well.
The rebels gathering in the West outnumber the royal army and the magic they wield can strike into the heart of the palace itself, but far greater dangers lie behind those. On the far fringes of the Isles, ancient powers ready themselves for a titanic struggle in which human beings are mere pawns--or fodder!
Reptilian and insect monsters from out of the ages march on the kingdom, commanded by wizards no longer human or never human at all. If unchecked, their ravening slaughter will sweep over the Isles as destructively as a flood of lava. Garric, ripped from his time and body, must make new allies if he and his kingdom are to survive.
Watching them all from the blackness of a tomb walled off in time and space, the Mistress waits...
And her fangs drip poison!
Praise For Mistress of the Catacombs: The fourth book in the epic saga of 'Lord of the Isles'…
"Unlike most modern fantasy, David Drake's Lord of the Isles is an epic with the texture of the legends of yore, with rousing action and characters to cheer for." —Terry Goodkind
Tor Fantasy, 9780812575408, 672pp.
Publication Date: August 19, 2002
About the Author
David Drake (born 1945) sold his first story (a fantasy) at age 20. His undergraduate majors at the University of Iowa were history (with honors) and Latin (BA, 1967). He uses his training in both subjects extensively in his fiction.
David entered Duke Law School in 1967 and graduated five years later (JD, 1972). The delay was caused by his being drafted into the US Army. He served in 1970 as an enlisted interrogator with the 11th Armored Cavalry Regiment, the Blackhorse, in Viet Nam and Cambodia. He has used his legal and particularly his military experiences extensively in his fiction also.
David practiced law for eight years; drove a city bus for one year; and has been a full-time freelance writer since 1981, writing such novels as Out of the Waters and Monsters of the Earth. He reads and travels extensively.
or
Not Currently Available for Direct Purchase