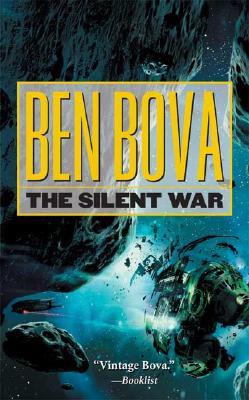 The Silent War (Mass Market Paperback)
Book III of The Asteroid Wars
Tor Science Fiction, 9780812579901, 432pp.
Publication Date: January 27, 2005
* Individual store prices may vary.
Description
When corporations go to war, standard business practice goes out the window. Astro Corporation is led by indomitable Texan Pancho Lane, Humphries Space Systems by the rich and ruthless Martin Humphries, and their fight is over nothing less than resources of the Asteroid Belt itself. As fighting escalates, the lines between commerce and politics, boardroom and bedroom, blur--and the keys to victory will include physics, nanotechnology, and cold hard cash.
As they fight it out, the lives of thousands of innocents hang in the balance, including the rock rats who make their living off the asteroids, and the inhabitants of Selene City on Earth's moon. As if matters weren't complicated enough, the shadowy Yamagata corporation sets its sights on taking advantage of other people's quarrels, and space pirate Lars Fuchs decides it's time to make good on his own personal vendetta.
It's a breakneck finale that can end only in earth's salvation--or the annihilation of all that humankind has ever accomplished in space.

About the Author
A six-time winner of the Hugo Award, a former editor of "Analog," former editorial director of "Omni," and past president of the National Space Society and the Science Fiction Writers of America, Ben Bova is the author of more than a hundred works of science fact and fiction. He lives in Florida.
Praise For The Silent War: Book III of The Asteroid Wars…
"Another adventurous escapade... vetran pro Bova knows his space-rivets from his astro-bolts, and nobody will be disappointed."
--Kirkus Reviews on The Silent War

"The concluding volume of the Asteroid Wars is vintage Bova, with intrigues, hardware, and action all applied lavishly to a fast moving story."
--Booklist on The Silent War

"...full of ingenious action, capably handled... Bova maintains suspense."
--Paul Di Filippo of SciFi.com on The Silent War

"An entertaining tale of survival and suspense."
--The Washington Times on The Precipice

"Bova gets better and better, combining plausible science with increasingly complex fiction."
--Los Angeles Daily News on The Precipice

"Hard-charging... Ambitiously juggling elements of space opera, western, and Sophoclean drama, Bova keeps the pages turning."
--Publishers Weekly on The Rock Rats

"Another attention-grabbing entry in a series that continues to grow in stature, scope, and complexity. Once again, Bova in top form."
--Kirkus Reviews on The Rock Rats

"A top-notch adventure story...The author's excellence at combining hard science with believable characters and an attention-grabbing plot makes him one of the genre's most accessible and entertaining storytellers."
--Library Journalp0 on Venus

"Bova manages to bring the planet alive as a force of nature indifferent to the struggles, hopes, or presence of the humans who are attempting to make the first successful landing on her surface."
--Bookpage on Venus

"Recalls the work of Heinlein in his Destination Moon mode, or Hal Clement in any number of stories: a day-after-tomorrow tale crafted with near-journalistic purity...It's a difficult, demanding mode to pursue, and not many choose to nowadays. But Bova does it magnificently."
--Paul Di Filippo of SciFi.com on Jupiter




"Another adventurous escapade... vetran pro Bova knows his space-rivets from his astro-bolts, and nobody will be disappointed."



"The concluding volume of the Asteroid Wars is vintage Bova, with intrigues, hardware, and action all applied lavishly to a fast moving story."



"...full of ingenious action, capably handled... Bova maintains suspense."

-Paul Di Filippo
or
Not Currently Available for Direct Purchase