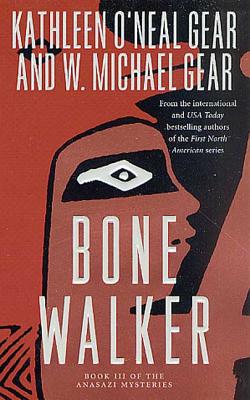 Bone Walker (Mass Market Paperbound)
Tor Books, 9780812589825, 662pp.
Publication Date: October 13, 2002
* Individual store prices may vary.
or
Not Currently Available for Direct Purchase
Description
W. Michael Gear and Kathleen O'Neal Gear, award-winning archaeologists and international bestselling authors, break extraordinary new ground in the riveting sequal to their bestselling The Summoning God. Bone Walker is more than a murder mystery, it is a psychological thriller filled with the action that have made this the dynamic duo of the historical. They have breathed life into the vanished world of the Anasazi, bringing out the spirit, the loves, and a mysterious world where mystery and horror lurk in every shadow, behind every door, sometimes right before you. The Gears invite you to follow them down the dark labyrinth of the serial killers mind in Book III of the Anasazi Mysteries.
Eight hundred years have passed since the Mogollon holy man was murdered in Flowing Waters Town. The threads of evil spun by Two Hearts are drawn across time to ensnare modern archaeologists Dusty Stewart and Maureen Cole. The "Wolf Witch" has killed archaeologist Dale Emerson Robertson, and Dusty and Maureen must unmask the murderer before he strikes again. But in so doing, Dusty will root out disturbing secrets about his own past that will cast his father's suicide in an unsettling light. With so many skeletons in the closet, even a bone expert like Maureen can be baffled...and the Wolf Witch is two steps ahead of them, drawing them relentlessly into his trap...
From the national award-winning archaeologists and international bestselling authors of The Visitant and The Summoning God comes a novel of unforgettable terror about a murder in America eight hundred years ago...and a power that transcends time.
About the Author
Kathleen O'Neal Gear is a former state historian and archaeologist for Wyoming, Kansas, and Nebraska for the U.S. Department of the Interior. She has twice received the federal government's Special Achievement Award for ""outstanding management"" of our nation's cultural heritage. W. Michael Gear holds a master's degree in archaeology and has worked as a professional archaeologist since 1978. He is principal investigator for Wind River Archaeological Consultants. Together they have written the North America's Forgotten Past series (People of the Longhouse, The Dawn Country, People of the Mist, People of the Wolf, among others); and the Anasazi Mysteries series. The Gears live in Thermopolis, WY.
Praise For Bone Walker…
"There are many fascinating mysteries within Bone Walker, but it is the vibrant and perceptive panorama on the Anasazi culture that makes this novel stand out amidst the crowd of archaeological who-done-its."-The Midwest Book Review
Advertisement