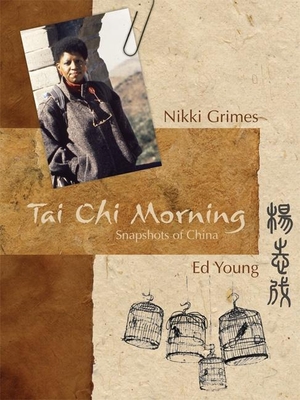 Tai Chi Morning
Snapshots of China
Hardcover

* Individual store prices may vary.
Description
Tai Chi Morning is simply, as the title implies, snapshots of China seen through the lens of a poet's eye. It is a collection of moments, a personal record of an outsider's first experience of China. (From the introduction) In 1988, poet Nikki Grimes spent three weeks along the east coast of China. Like any curious tourist, she observed and touched, sniffed and tasted. But unlike most, she poured those sensations into poetry. Distilling the delight and confusion of an African American traveler thousands of miles from home, her poems take a thoughtful, sometimes playful, look at an outsider's sense of self.
As it happened, around the same time, artist Ed Young was visiting his native China--as always, writing and sketching his impressions in a personal journal. Like Nikki, Ed witnessed signs of the old China alongside the new. Like the poet, the artist caught hold of them and set them down on paper.
Through Nikki's wry but penetrating verse and Ed's deft, revealing drawings, in Tai Chi Morning the journeys of a visiting American poet and an artist returning home unwind side by side in counterpoint.
Cricket Books, 9780812627077, 64pp.
Publication Date: January 14, 2004
or
Not Currently Available for Direct Purchase