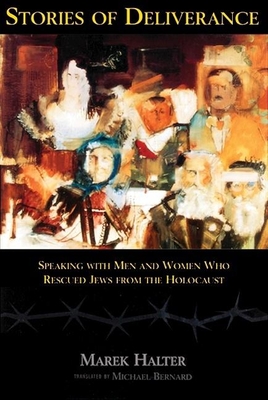 Stories of Deliverance: Speaking with Men and Women Who Rescured Jews from the Holocaust (Paperback)
Speaking with Men and Women Who Rescured Jews from the Holocaust
Open Court, 9780812693645, 256pp.
Publication Date: December 30, 1998
* Individual store prices may vary.
or
Not Currently Available for Direct Purchase
Description
When Marek Halter was five years old, he and his family fled the Warsaw Ghetto in the hope of fighting for the freedom of Poland. When his family was caught with hundreds of others at Malkinia and told to separate into Poles and Jews, Marek was saved by a Pole who pulled him under a wagon; he and his family escaped by running through open fields amidst the shots of German guns. A split second decision by a Catholic Pole saved Marek's life and the family continued on to Moscow. In 1994, Marek Halter began his search for the men and women who risked their own lives to save the live of Jews during World War II. He begins his journey in his childhood home of Warsaw, from which he has been away for over 40 years. By interviewing Jewish survivors of the holocaust, Halter developed a list of what he calls the "Good and Just" - the people who, according to the Talmud, must exist in each generation in order to save the world from destruction. Our protagonists range from simple peasants on the Polish border to Willy Brandt, the ex-Chancellor of Germany, to a Japanese Consul who disobeyed his government. Eventually, his journey leads him through the Netherlands, Sweden, Bulgaria, Lithuania, Japan, Tunisia - 14 countries in all. Halter was looking for personal stories with happy endings and the people who made those endings possible. Written as a series of conversations with the heroes and those they rescued, interspersed with the author's own memories, "Stories of Deliverance" offers glimpses of the hope and strength we find even in the darkest of times of our history. Halter uses this collection to convince us of two things: that there will always be good people in the world who will give us hope and sustain us in times of oppression; and to warn us that it is only with the memories of good deeds that we will be able to adequately deal with evil.

Advertisement