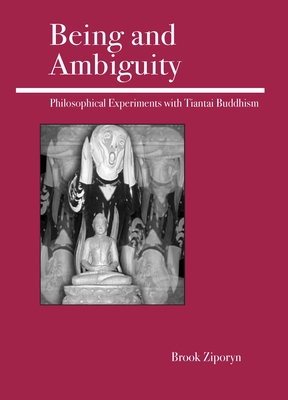 Being and Ambiguity
Philosophical Experiments with Tiantai Buddhism
Paperback

* Individual store prices may vary.
Description
Being and Ambiguity is a brilliant work of philosophy, filled with insights, jokes, and topical examples. Professor Ziporyn draws on the works of such Western thinkers as Wittgenstein, Nietzsche, Freud, Sartre, and Hegel, but develops his main argument from Tiantai school of Chinese Buddhism. This important work introduces Tiantai Buddhism to the reader and demonstrates its relevance to profound philosophical issues. Ziporyn argues that we can make both of the claims below simultaneously:
This book is about everything. It contains the answers to all philosophical problems which ever shall exist. This book is all claptrap. It is completely devoid of objective validity of any kind. These claims are not contradictory. Rather, they state the same thing in two different ways. To be objective truth is to be subjective claptrap, and vise versa. All interchanges of any kind - conversations, daydreams, sensations - are not only about something but also about everything. Thus, this book concerns itself with no less than the nature of what is and what it means for something to be what it is. It provides a new approach to the basic Western philosophical and psychological issues of identity, determinacy, being, desire, boredom, addiction, love and truth.
Open Court, 9780812695427, 428pp.
Publication Date: August 25, 2004