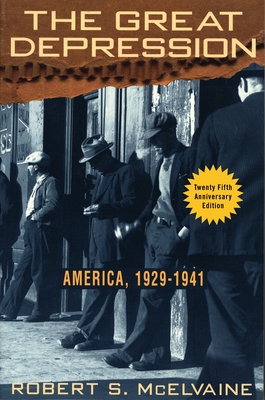 The Great Depression: America 1929-1941 (Paperback)
America 1929-1941
Broadway Books, 9780812923278, 448pp.
Publication Date: December 6, 1993
Description
One of the classic studies of the Great Depression, featuring a new introduction by the author with insights into the economic crises of 1929 and today.
In the twenty-five years since its publication, critics and scholars have praised historian Robert McElvaine's sweeping and authoritative history of the Great Depression as one of the best and most readable studies of the era. Combining clear-eyed insight into the machinations of politicians and economists who struggled to revive the battered economy, personal stories from the average people who were hardest hit by an economic crisis beyond their control, and an evocative depiction of the popular culture of the decade, McElvaine paints an epic picture of an America brought to its knees--but also brought together by people's widely shared plight.
In a new introduction, McElvaine draws striking parallels between the roots of the Great Depression and the economic meltdown that followed in the wake of the credit crisis of 2008. He also examines the resurgence of anti-regulation free market ideology, beginning in the Reagan era, and argues that some economists and politicians revised history and ignored the lessons of the Depression era.
About the Author
ROBERT S. MCELVAINE is Elizabeth Chisholm Professor of Arts and Letters and chair of the Department of History at Millsaps College in Jackson, Mississippi. He is the author of ten books and served as historical consultant for the PBS series The Great Depression. His writing appears frequently in such publications as the New York Times, Washington Post, Los Angeles Times, and The Wall Street Journal, and he blogs on the Huffington Post.
Praise For The Great Depression: America 1929-1941…
A New York Times Notable Book
 
"It would be hard to find a fairer or more balanced account of how the American people and their leaders learned to grapple with their greatest economic crisis." —New York Times Book Review
 
"A thorough work of scholarship, a lively story, and a highly original feat of analysis."—Business Week 
 
"This is essential reading." —Studs Terkel
Advertisement