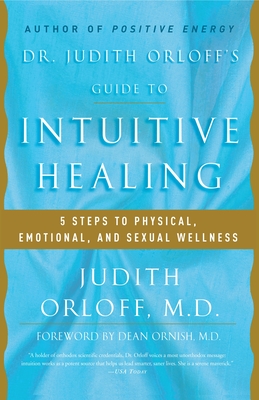 Dr. Judith Orloff's Guide to Intuitive Healing: 5 Steps to Physical, Emotional, and Sexual Wellness (Paperback)
5 Steps to Physical, Emotional, and Sexual Wellness
Harmony, 9780812930986, 368pp.
Publication Date: March 6, 2001
Description
"We are the keepers of an intuitive intelligence so powerful it can tell us how to heal." In her groundbreaking new book, Dr. Judith Orloff leads readers to the heart of a radical revolution in health care: the union of medicine and intuition, of body, mind, and soul. We're all born with the gift of intuition; many of us have long ago blocked that "indisputable sense of rightness" which is our truest inner compass.
Dr. Orloff's guide will show you how to recapture, nurture, and affirm your intuitive ability, so that you can utilize it to help heal yourself. Intuition plays an indispensable role in self-diagnosis, pain control, immune response, and recovery from acute and chronic illness; it can lead you to breakthroughs in anxiety, panic, depression, and other emotional blockages, even when traditional psychotherapy has failed. Intuition also offers insights into the use of medications and the selection of the right healer for your needs. Further, it is integral for sexual healing, since sexuality is a potent connector and energy source for clarifying spirituality and improving vitality.
Dr. Orloff introduces five practical steps she uses in her own life and teaches to patients which illustrate how to harness the power of intuition to heal. You'll learn to clarify your beliefs, listen to your body's messages, access inner guidance, sense subtle energy, and interpret your dreams. Practicing these steps you'll recognize early warning signals and act on them to help prevent illness. You'll have skills to uncover important information from meditation and remote viewing (a way of intuitively tuning in) to make sense of confusing signals. The insights you'll gain from these tools will lend reason, compassion, and meaning to events such as illness, loss, or despair. Following Dr. Orloff's simple, clear instructions, illustrated with examples from her own experience and psychiatric practice, you'll recapture a sense of vision that will bring vibrance to all that you do.
"Our intuition can open us up to our spirituality and show us how to be more healthy and whole," writes Dr. Orloff. "If you're in good health, you'll want to know about intuition because it can help you stay well and recognize messages that prevent illness. If you or your loved ones need healing, you'll also want intuition to show the way." Written with abundant warmth, humor, and compassion, this guide is your companion to a healthier, more fulfilling life.
About the Author
JUDITH ORLOFF, M.D., is a board-certified psychiatrist, an assistant clinical professor of psychiatry at UCLA, and a staff member at Cedars-Sinai Medical Center. She is also the author of Second Sight, a memoir about coming to terms with her intuitive abilities. Dr. Orloff is an international lecturer and workshop leader on the interrelationships of medicine, intuition, and spirituality. Her work has been featured on CNN, PBS, Lifetime, A&E, and NPR and has appeared in New Age, Self, and USA Today. She lives by the ocean in Los Angeles, California.
Praise For Dr. Judith Orloff's Guide to Intuitive Healing: 5 Steps to Physical, Emotional, and Sexual Wellness…
"A wonderful contribution to the field of human consciousness. Dr. Orloff's work is not only needed by the social mind in order to understand the future of health care, but it is also a masterpiece of educational data."
-- Caroline Myss, Ph.D., author of Anatomy of the Spirit and Why People Don't Heal and How They Can

"A powerful, step-by-step guide for helping you tune in to your own intuition and power to heal on every level."
-- Christiane Northrup, M.D., author of Women's Bodies, Women's Wisdom

"Wise, accessible, compassionate, funny, and authentic, this book can help you listen to the voice of intuition, live a more satisfying and joyful life, and connect with the body's natural powers of healing."
-- Joan Borysenko, Ph.D., author of Minding the Body, Mending the Mind

"An excellent resource for those ready to explore their role in health, wellness, and living."
-- Bernie Siegel, M.D., author of Love, Medicine & Miracles and Prescriptions for Living

"Judith Orloff brings intuition into the healing arts. Her book is a great contribution to our deeper understanding and transformation."
-- Marianne Williamson

"Clear, accessible advice here on how to make this fundamental and life-opening shift from the anxiously controlled life to one that is open to opportunity and creativity."
-- Thomas Moore, author of The Soul of Sex and The Care of the Soul
Advertisement