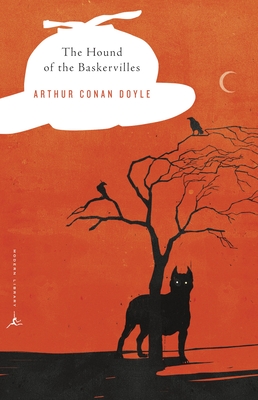 The Hound of the Baskervilles (Modern Library Classics) (Paperback)
Modern Library, 9780812966060, 208pp.
Publication Date: October 8, 2002
Other Editions of This Title:
Digital Audiobook (9/14/2014)
Digital Audiobook (4/21/2016)
Digital Audiobook (11/22/2009)
Paperback (4/26/2017)
Paperback (4/2/2017)
Paperback (7/8/2018)
Paperback (9/23/2013)
Paperback (12/30/2013)
Paperback (9/26/2014)
Paperback (2/15/2014)
Paperback (12/3/2016)
Paperback (7/20/2015)
Paperback (12/10/2016)
Paperback (2/5/2014)
Paperback (2/20/2017)
Paperback (10/1/2015)
Paperback (10/31/2016)
* Individual store prices may vary.
Description
Introduction by Laurie R. King
 
The most famous of the Sherlock Holmes stories, The Hound of the Baskervilles features the phantom dog of Dartmoor, which, according to an ancient legend, has haunted the Baskervilles for generations. When Sir Charles Baskerville dies suddenly of a heart attack on the grounds of the family's estate, the locals are convinced that the spectral hound is responsible, and Holmes is called in. "Conan Doyle triumphed and triumphed deservedly," G. K. Chesterton wrote, "because he took his art seriously, because he lavished a hundred little touches of real knowledge and genuine picturesqueness on the police novelette."
About the Author
Laurie R. King is the New York Times bestselling author of twelve Mary Russell mysteries (one of which, The Moor, was inspired in part by The Hound of the Baskervilles), five contemporary novels featuring Kate Martinelli, and the acclaimed novels A Darker Place, Folly, Keeping Watch, and Touchstone. She lives in Northern California.
Praise For The Hound of the Baskervilles (Modern Library Classics)…
"The whole Sherlock Holmes saga is a triumphant illustration of art's supremacy over life." —Christopher Morley