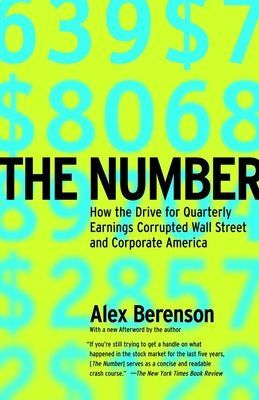 The Number
How the Drive for Quarterly Earnings Corrupted Wall Street and Corporate America
Paperback

* Individual store prices may vary.
Description
With a new Afterword by the author and a new Foreword by Mark Cuban

In this commanding big-picture analysis of what went wrong in corporate America, Alex Berenson, a top financial investigative reporter for The New York Times, examines the common thread connecting Enron, Worldcom, Halliburton, Computer Associates, Tyco, and other recent corporate scandals: the cult of the number.

Every three months, 14,000 publicly traded companies report sales and profits to their shareholders. Nothing is more important in these quarterly announcements than earnings per share, the lodestar that investors—and these days, that's most of us—use to judge the health of corporate America. earnings per share is the number for which all other numbers are sacrificed. It is the distilled truth of a company's health.

Too bad it's often a lie.

Alex Berenson's The Number provides a comprehensiv, brutally factual overview of how Wall Street and corporate America lost their way during the great bull market that began in 1982. With wit and a broad historical perspective, Berenson puts recent corporate accounting (or accountability) disasters in their proper context. He explains how the wheels came off the wagon, giving readers the information and analysis they need to understand Enron, Tyco, WorldCom, Halliburton, and the rest of the corporate calamities of our times.
Praise For The Number: How the Drive for Quarterly Earnings Corrupted Wall Street and Corporate America…
"Alex Berenson, a whip-smart New York Times business reporter, is [a] wisecracking play-by-play commentator. In The Number, he offers a compelling account of how many large-number corporations went astray in the late 1990s. . . . Berenson knows this material cold, and he has a way with a phrase."
—The Washington Post

"Berenson's book is about far more than one financial concept or dictionary definition. It is a well-written, informative, fact-filled review of how we got into this mess. More, it's the sort of book those of us who plan to be around the financial-services industry for a long time can take down from our bookshelves years from now, during the next bubble, and say to the younger folks, 'Let me tell you something, this has happened before.'"
—The Mercury News

"If you're still trying to get a handle on what happened in the stock market for the last five years,[The Number] serves as a concise and readablecrash course."
—The New York Times Book Review
Random House Trade Paperbacks, 9780812966251, 336pp.
Publication Date: April 13, 2004
About the Author
Alex Berenson graduated from Yale University in 1994, with degrees in history and economics. After working at The Denver Post and TheStreet.com, he joined The New York Times in 1999 as a business reporter specializing in financial investigative reporting. He has three times been named one of the top thirty business reporters under the age of thirty. He lives in New York City.
or
Not Currently Available for Direct Purchase